I have always been a Chanel Rouge Coco Shine addict, but I really wanted to try a Rouge Volupte. I really wanted a Plum shade to go with the A/W 11/12 trends, as well as a frosty Pink shade. These lipsticks are really luxurious and have a really pigmented colour pay off. The shade "Exquisite Plum" especially has a nice pigment, even when it fades it leaves a nice berry stain on your lips.
The texture is also nice and creamy, not my favourite texture... I do prefer the Rouge Coco Shine, because it feels more moisturising.
£22.00
I purchased this for Christmas 2011 as a little treat to myself. I think it's absolutely stunning, It can be worn alone or on top of another product, which can look really lovely.. If you pair it with the right shade. I do believe this product is around £20.00 - The smell is slightly strange and the only way I can describe it is, smelling like "Dough". I haven't used it much, So If you would an in-depth review.. message me here !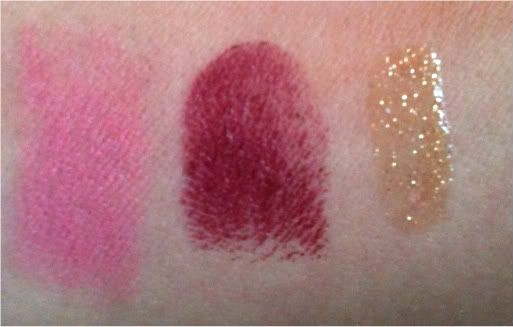 (L-R) Frivolous Pink, Exquisite Plum, Golden Gloss
Love
India.R
XxX