Hey Everyone,
I just wanted to make a post about my skincare routine. I must admit, It's pretty basic as I don't have huge problems with my skin. However, I do break out when it's the famous time of the month.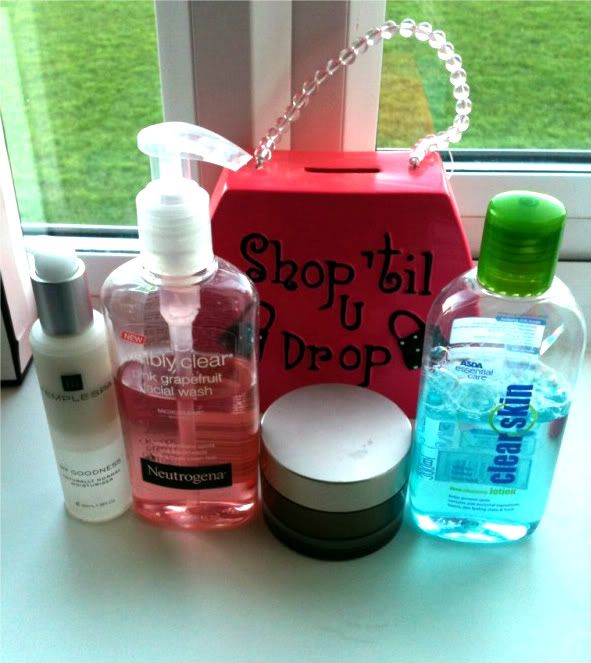 Facial Wash - Neutrogena grapefruit facial wash £4.50 ( Most drug stores/supermarkets sell this )
I like the Neutrogena facial wash, because it's refreshing and very easy to use. The only down point about this product is that it can be drying if used to often and the smell isn't amazing.
Everyday Moisturiser - Temple Spa - My Goodness £33.00
This moisturiser is perfect for normal skin, it gives good radiance as well as being a generally great moisturiser. Temple Spa products are all skin concious and contain no harmful ingredients
.
Special Moisturiser - Temple Spa - Skin Truffle £80.00
This is the most amazing facial cream I have ever used. It does have an expensive price tag, but it's competitors can range to £200.00. The product uses Gold, Diamond dust & Truffles, and it's designed to produce endorphins and to give you that great feeling look. I only use this for special occasions because it's a very rich moisturiser for a young skin type.
Toner - ASDA - Clear Skin Witch Hazel £1.00
You can't beat a Tea tree & Witch Hazel toner. I much prefer using this to my more expensive Temple Spa toner. It's so refreshing and it's properties are really good for breakout prevention. You can find these toners In supermarkets and drug stores.
Eye cream - Temple Spa - Windows Of The Soul £27.00
I couldn't find this product to picture :( - However, I really do like this eye cream. Apparently, It was used by Simon Cowell. It's really good for reducing fine lines and dark circles, as well as puffy eyes. I love Temple-Spa products in general, they are really low key but an amazing company.
Skin Truffle
It looks so yummy !
Love
India. R
XxX