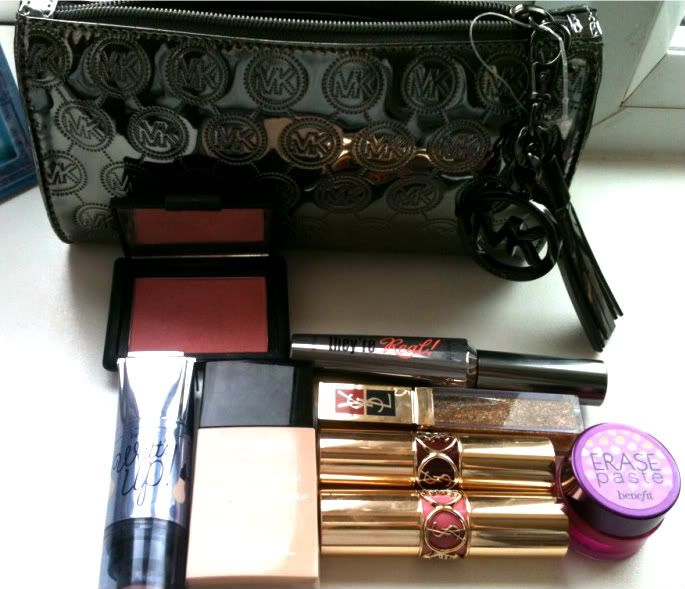 NARS Blush - Deep Throat
Benefit Highlighter - "Watt's Up"
Chanel Foundation - Vitalumiere Aqua B30
Benefit Mascara - "They're Real"
YSL - Golden Gloss
YSL - Rouge Volupte - Frivolous Pink
YSL - Rouge Volupte - Exquisite Plum
Benefit Concealer - "Erase Paste"
These are the exact products which I'm currently taking around with me everyday in my make-up bag. Firstly, NARS (Deep Throat) Is my current favourite blush. It's so beautiful and extremely natural, The flush it gives my complexion is nicer than any other I have tried so far. I also like to carry a highlighter around with me, as it's a good product to give you a boost. The Chanel Vitalumiere foundation, has been my favourite for over 6 months, and I'm currently on my second bottle. I love how light weight it is, as well as giving a flawless look. I'm currently using the Benefit "They're Real" mascara, even though Chanel mascara is my #1. I really do like the mascara, it's amazing ... but It's very hard to get off ! - It's probably a good thing though, because it doesn't flake and would last a night out!. I have done a post of my YSL lip products, which will be up shortly. Finally, Benefit "Erase Paste" concealer is the best, It's lightening pigments are amazing for a pick up. A lot of people don't like this concealer because they think it's thick and creases easily. However, if this product is put on as instructed by the Benefit instructions then you will be fine. I would always recommend going to a counter first.