Hey Everyone!
So I'm pretty sure everyone is aware of Glamour magazines amazing offer at the moment. Each issue has a half sized Benefit product for £2. I decided to jump on the bandwagon, and now I have purchased 4 magazines (x2 POREfessional x2 Bad Gal Mascara). I would seriously recommend you checking this offer out, I have always been a fan of Benefit, and I currently use about 5 of their products. I haven't picked up "That Gal" because I have already used it, and loved it. It has also saved a whopping £45.00 off my next beauty purchase!.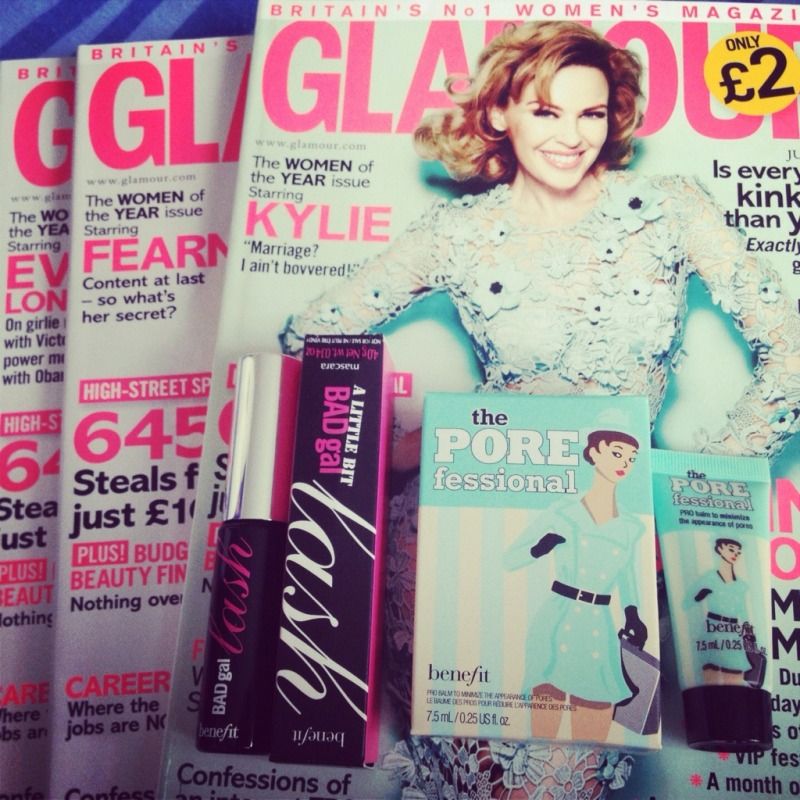 My top products for troublesome skin
I am lucky enough not to suffer with bad skin problems. However, I still do get spots now and then so I wanted to just share with you some products that I love for keeping my skin as clear as possible.
Clearasil Ultra Rapid Action Pads
These are AMAZING. I have seen them on so many beauty blogs, and many people rave about them. They contain a high dose of salicylic acid, which is quite potent. They can be used morning and night, and they can be used for prevention & cure. I think they are about £4/5 and can be found in the Drugstore or supermarket.
Neutrogena make some really good products for troublesome skin, and this is my favourite. The Pink Grapefruit wash is really easy to use, and it does help clear my skin up when I have rare breakouts. I do believe that this again is around £4/5.
My boyfriend LOVES this range, and he feels like it does a really good job. I think when buying skincare products, you have to realise that nothing is instant. Your skin really does need time to adjust to new products, but this range does do a nice job of clearing the skin.
This Tinted Moisturiser by WITCH contains anti blemish ingredients. It has medium coverage, and does blend really nicely into the skin. I will wear this when I feel like my skin needs to breathe and also If I'm worried about a looming breakout. This is also around £4's in the drug store and supermarket, so it's a great price.
This is another product from WITCH, and I like this because it's really cooling an irritated spot. It does reduce redness overnight, and generally for about £2/3 I think it's a great buy.
I hope you have enjoyed this post, and if you have any questions let me know below. I honestly love getting comments, and it makes me smile :)
Love
India xxx