Hey Everyone!
We are having such glorious weather in the UK at the moment, and I hope you are all having lovely weather wherever you are this moment!. I have been loving getting the summer dresses out, and being girly and glam.. ...instead of being in jeans and a coat due to the bad weather!.
Anyway, I have a double post for you today.. and I hope it will be an enjoyable read for you all. I always enjoy these posts, because I love seeing what other people carry haha!. I have also recently purchased the NEW YSL foundation, and I'm so excited to review that for you all in the coming weeks. Please note that I don't usually take this much makeup around with me, but I have moved to my boyfriends house for a week.
By the way... did you know that YSL is now being re branded as "SL" Saint Laurent ? Personally I don't agree with this, because YSL is so iconic. Let me know what you all think!! <3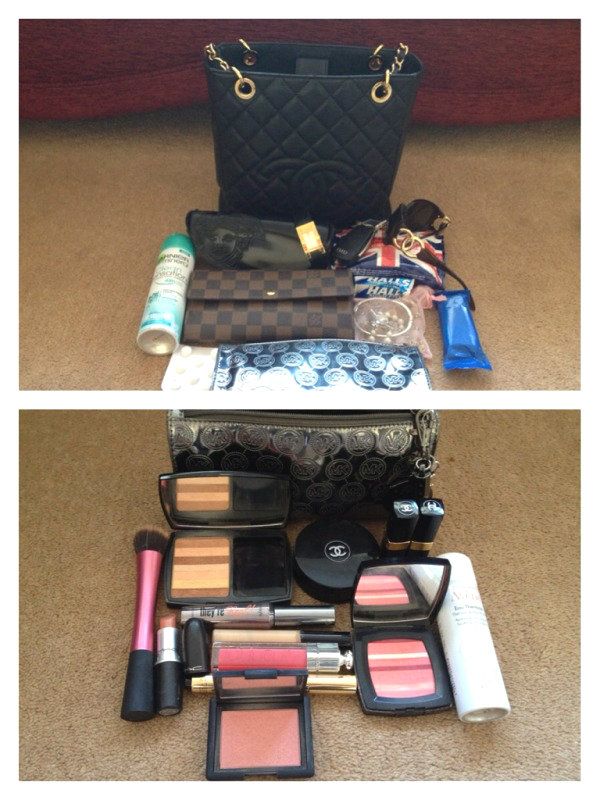 [Got to love the I phone for quick pics!]
Handbag Contents
BAG - Chanel PST
Versace Sunglasses
Versace Watch
Garnier Deodorant
Louis Vuitton Sarah Wallet
Headache Tablets
Michael Kors Makeup Bag
Jewellery
Chocolate Bar
Halls Sweets
Jubilee Anti Bac Wipes
Chanel Sunglasses
Car Keys
Makeup Bag Contents
Chanel Sable Beige SS12 Bronzer
Chanel Vitalumiere Aqua Compact Foundation B30
Chanel Rouge Coco Shine #48 Evasion
Chanel Rouge Coco Shine #70 Sourire
Avene Thermal Spring Water Spray
Chanel Blush Horizon
NARS Deep Throat Blush
YSL Touche Eclat #2
Dior Summer Addict Gloss #Rose Bikini
Collection 2000 Lasting Perfection Concealer #3
Benefit They're Real Mascara
MAC Shy Girl Lipstick
Real Techniques Stippling Brush
Thanks for reading!
Love India XxX