Hello Lovelies,
I have decided to do my next "Top 3" post on my favourite concealers, as concealer is a huge part of many beauty routines. I love concealer, and mainly use it to conceal my under eye problems. I'm not even sure if my circles/puffy eyes are that bad, but I get so paranoid about looking "tired". So using a concealer for me is a daily must, but what about you ? - Do you religiously use concealer, and what ones are your faves ?
YSL Touche Eclat #2
This is my third Touche Eclat, and even though it is technically a "highlighter" it does help to add radiance and light coverage to my under eye area. Sometimes "less" is "more", and I think this is the case with the YSL Touche Eclat. I love how it has dual uses, and can be used to add light to any part of the face. Refreshing my complexion throughout the day is made so much easier with this lovely golden pen!.
Collection 2000 Lasting Perfection Concealer #3
This is my second tube of this concealer and for around £4.00 I don't think you can go wrong. I use this as my blemish concealer, and also to add extra coverage here and there. It has lasted me ages, and I'm really happy with how it covers any problem areas on my face.
Benefit Erase Paste #2
I did slightly fall out of love with this concealer, as I started to feel like it was a little "cakey". However, recently after being without my Touche Eclat I started using this concealer, and I have totally fallen back in love with it. I now use my two smaller brushes from my Real Techniques Core Collection, and I find that I can get a much lighter and smoother coverage by using the brushes. I think that I was probably using it with a heavy hand before causing it to be a bit cakey. If you find the right way to work with this product then I can assure you that it really is a great under eye concealer. I also like the melon undertones, as this is a great way to fight under eye problems.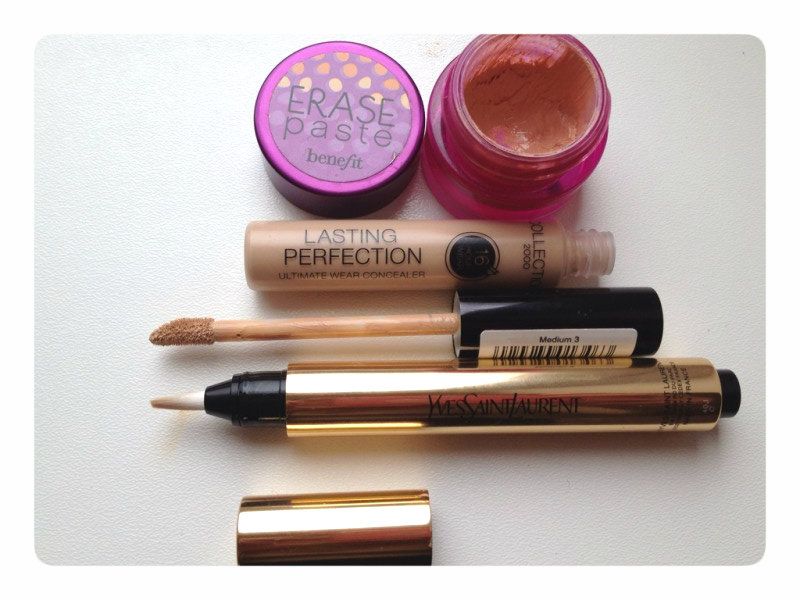 I also wanted to mention my new header design!! - Please visit this link if you want any graphics designed
LM
Love India X