Hey Lovelies!
I hope you are all well ? - I thought I would do a little haul post for you today, as I don't really do that many of them. I needed a little retail therapy, and just needed to pick up a few last bits for holiday (and some make-up haha). I will be attending the #bbloggers chat for a bit tonight, so if you visit my blog via the chat, I just want to say a "Huge" welcome :)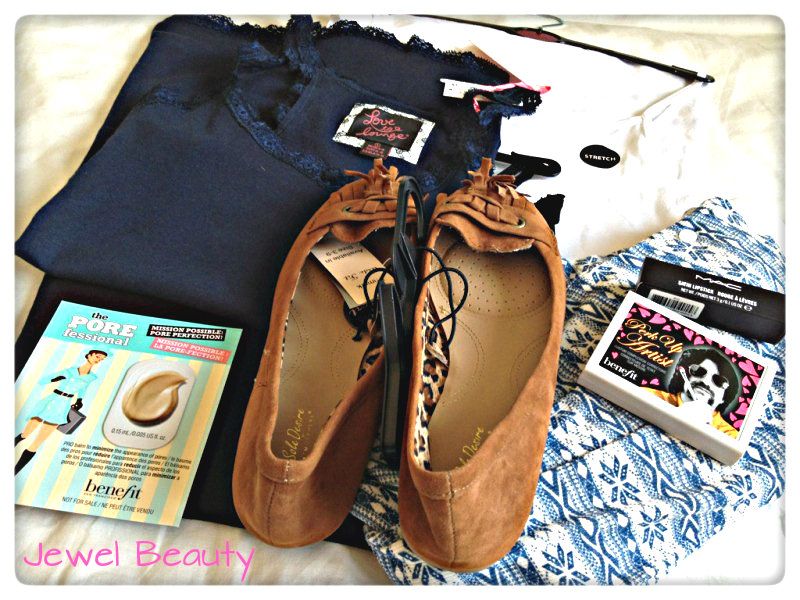 I picked up two plain Black & White vest tops as these are always very handy to take on holiday. I also purchased some Loafers from Primark, as my beloved ASOS ones have started to break and they are now sold out Online. I also seen that the lovely Meg from
Meg's Budget Boutique
had purchased these, so for around £8's I knew I had to grab them as well. I also picked up some cute PJ's as the nights are starting to get a little cold again now, and there is nothing more I love than being snugly!.
No haul of mine would ever be complete without paying the beauty department a visit haha!. I decided to pick up MAC "MAC Red" (£14.00) after my lovely friend
Sophia
recommend me this shade. I have been scared to try a Red before, but I must admit after wearing it today I am in LOVE with it.
Finally, I caved into Benefit's "Perk Up Artist" corrector kit (£22.50). However, I wasn't exactly amused by the very "bored" sales assistant, I couldn't believe how unhelpful she was towards me. It actually felt like she was trying to put me off the brand by the way she was acting!. Anyway, this kit is super cute, and I'm amazed by how creamy this palette is. I was happy with how the corrector covered my redness up today, so I will be sure to review both of the products I purchased!.
I would love to hear your opinions & also don't forget to leave your links below!
Love India