Hello Lovelies!
Today is the first of my three part series called the "Holiday Edition". I hope you enjoy these posts, as I absolutely love them myself. I'm going away for a week on the 21st September with my parents and boyfriend to the very beautiful island of Mallorca.

The first edition of this mini series is going to be my "Make-Up Choices". I hope you enjoy this post, and if you are visiting me via the #bbloggers chat, then I would like to say a huge welcome to my blog!.
Inca - Mallorca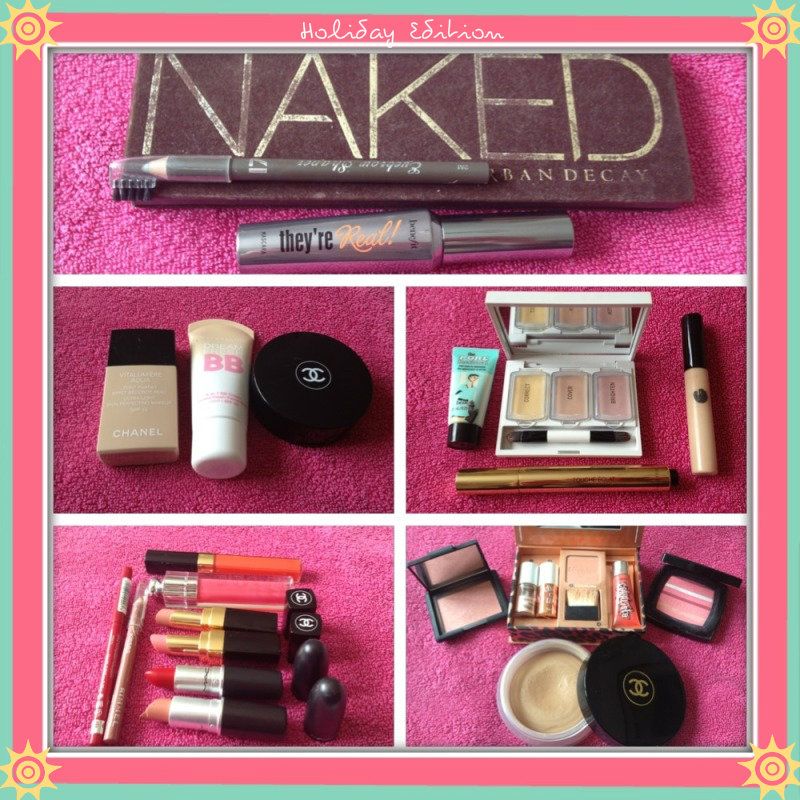 Chanel Vitalumiere Aqua Liquid & Compact Foundation #30
Maybelline BB Cream Light
I decided to take my Chanel foundations, even though I am currently in love with my YSL Le Teint Touche Eclat. The main reason for my decision is because the Chanel foundations contain very much needed SPF, whereas the YSL foundation doesn't. The Chanel shade is also a lot better for my tanned complexion, whereas my YSL is true to my natural more pale tone. Finally, my Maybelline BB cream is coming along for the day's by the pool where I just want a little coverage.
Benefit "Perk Up Artist" Corrector Kit
Collection 2000 Lasting Perfection Concealer
YSL Touche Eclat #2
Benefit "POREfessional"
I decided on my concealers, but left my Benefit Erase Paste out as I feel its a little bit thick for a warm holiday. The Benefit Perk Up Artist is the perfect little kit for quick and easy correction, and the Collection 2000 concealer will sort out any blemishes I may have whilst on holiday. I'm also taking my YSL Touche Eclat because Its a miracle worker when you are tired or in need of a little something. I put my POREfessional in with this group for some reason, but I am taking it instead of a powder.
Urban Decay NAKED #1
Benefit "They're Real"
17 Eyeborw Pencil
I always keep it nice and simple for the eyes, and my NAKED palette is always a must wherever I go. I am also taking my Benefit "They're Real" over my Chanel mascara's as "They're Real" has better staying power. Finally, I have decided to take my 17 Eyebrow pencil to give them a bit of extra definition.
NARS "Deep Throat" Blush
Chanel Blush Horizon
Chanel Bronzing Base
Benefit "Go Tropicoral"
This is probably my favourite part as I love wearing blush on holiday. I am taking my NARS blush which is a combination of Pink with a Peach undertone. I am also taking my Chanel blush Horizon, which gives a really lovely glowy pink glow to the skin. Finally, I am taking my Benefit Tropicoral kit which is just pure amazingness & my Chanel bronzing base which is another holiday essential.
LIPS
MAC Shy Girl
MAC Mac Red
Chanel Rouge Coco Shine #48 Evasion
Chanel Rouge Coco Shine #70 Sourire
Dior Ultra Gloss #Rose Bikini
Chanel Glossimer #Calypso
Rimmel lip liners in Tiramisu & Red Diva
Lip products are always a firm favourite, and probably the part I look forward to the most in general. I feel like a lipstick is the way I make my statement for the day. Some people choose to do this with their eyes, but I am not the most talented with eye make up haha. Firstly, I love MAC Shy Girl as its just one of those perfect go with anything kind of "Nudes". It also goes nicely under my Chanel Rouge Coco Shine #Evasion. I am also taking my new MAC Mac Red lipstick, as I think that will spice up a few of my LBD'S quite nicely ;). I can't forget about my two favourite summer glosses either, and I think Dior Rose Bikini & Chanel Calypso will be fun day time pops of colour!.
Hope you are all well my loves ? - Let me know if you have used or would like to use any of the products mentioned, and also feel free to leave your links :)
Love India X