Hey Lovelies!
I haven't posted for a few days, but I have had a bit of anxiety and stress within my personal life. I am actually amazed by how supportive people have been on twitter, and I really appreciate it. I have made so many friends recently, and I am always looking to make more!. Today, I thought I would go ahead and do my current foundation routine, as I feel like the last two weeks I have really found a great routine. I haven't been fake tanning much, so I have been able to make use of my YSL Teint Touche Eclat Foundation. I feel like I look a bit tired in these pictures, so I hope you don't mind haha, oh and excuse the non- glamorous hair.. but it's washing day today :P. I hope you enjoy this post, and don't forget to comment & leave your links!.
Step 1 - Skincare
My skincare is by Temple Spa (mostly) and I'm currently using "Be Gone" which is a kind hearted cleansing lotion, which is really lovely and gentle on my skin. I then use my "Toning Essence" which is a lovely mist full of Mediterranean goodness, which tones and soothes the skin. I then use my "Be Strong Serum" which is absolutely amazing, and described as a "Power Packed Super Juice". Then I move on to my "BeCalm" face & body balm, which is really refreshing & great for redness problems. Finally, I'm just using up my Balance Me. eye cream which I do like, but I have never found an amazing eye cream that I love.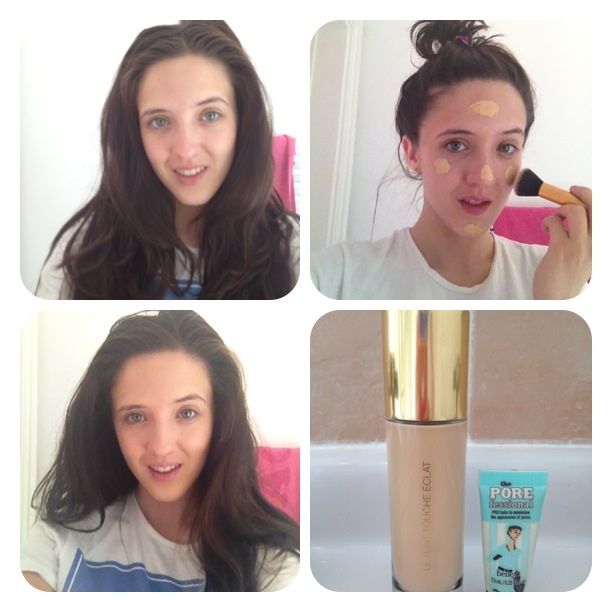 Step 2 - Base
Okay, so the pictures are from (L-R) in the order that I applied my make-up. Firstly, I took 2 pumps of my YSL Le Teint Touche Eclat in b30 and applied all over my face with my Real Techniques Buffing brush (excuse the unflattering pictures haha). I then apply my Benefit POREfessional over my foundation, as I feel it does a better job of filling Pores when it is applied over, and not under my foundation. This foundation is perfect for creating a really nice bright/light complexion, without looking shiny. I would say this foundation would work best on normal/dry skin types, and combination types with a primer/powder.
Step 3 - Eyes
Okay, so to keep in line with my bright & summery routine, I have only used basic eye make-up. I have taken "Virgin" from the UD Naked Palette #1 and applied it all over my lid. I find this shade to be really brightening, and it gives my face a fresher look. I then go in with the shade "Naked" in the outer corner, just to add the slightest bit of definition. I then finish my eyes off with the amazing Benefit "They're Real" mascara, and that's my simple eye look finished!.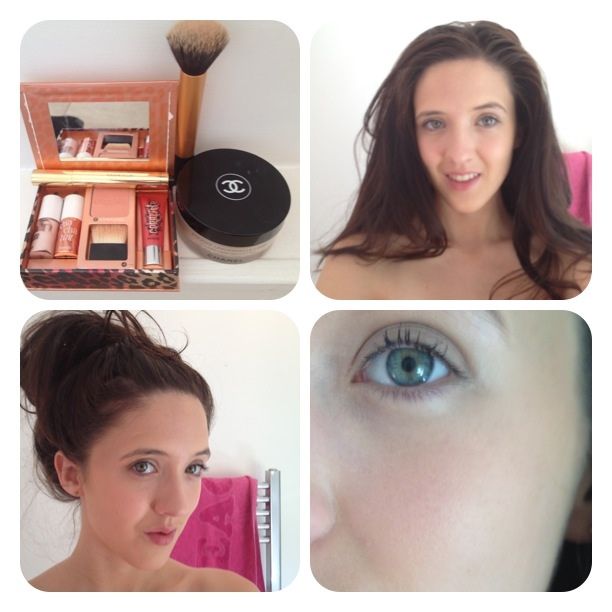 Step 4 - Finishing Touches
So Finally, I take my YSL Touche Eclat #2 and put it under my eyes to reduce the appearance of dark circles. I then take the Benefit Coralista Blush, and dust it over my cheeks. To complete the look, and help it stay, I set my make-up with my Chanel Loose Powder in #30. Oh, and we can't forget about the lips!! - I use my Benefit Cha Cha Tint to give them a coral stain, and I finish off with my Coralista Gloss.
Thanks for reading!
Love India X
Important Links