Hello Beauties!
So I had a total inspiration moment today to do a look ideal for Autumn/Winter. My sister actually brought me back a magazine which is for my local City Cardiff. It had loads of Autumn looks and fashion in it, and it really inspired me to create this look for all my lovely followers!.
I am totally throwing myself at the whole berry trend this season, and to be honest I can't get enough of it haha!. I would love to know what trends you are loving this season, and what looks you will be trying out for this Autumn/Winter!?
Berry tones can be worked to create a sophisticated elegance to the face, as well as making more of a bold statement. There are so many shades which can range from Red, Pink & Purples so if you are looking for the perfect A/W shade I would definitely recommend taking your time and having a looking around.
Products Used
Base - For my base I used my YSL Le Teint Touche Eclat Foundation In B30. I really like this foundation as it gives a really naturally healthy glow, but for this look I used my Chanel Loose Powder in 30 to give the look more of a matte effect.
Eyes -
For my eyes I used the shades
"Naked" & "Buck"
from my
UD Naked Palette #1
to create the matte brown look to accompany the strong lipstick used in the look. I also did a subtle wing by using the darker shade
"Buck"
(which you can see in the image below). I then concealed my under eye area with my
Benefit Erase Paste #2 Concealer
, and finished of with a few light handed flicks of my
Chanel Intimitable Mascara
. I would recommend you visit
"PetiteSals"
blog if you want to see some amazing eye looks to go with this look.
Face - In the look the model is actually wearing a dark blush not bronzer to contour, but I don't have a dark blush in my collection, so I had to make a compromise haha. I used NARS Deep Throat and my Chanel Bronzing Base to create a tawny kind of effect on my cheeks.
Lips -
For my lips I used my own
"Jewel By India R" Lipbalm in the flavour "Honey Bea"
to create an instant moisturised base, for my
YSL Volupte Lipstick in Exquisite Plum
to go on top of. It's important that you keep your lips in good condition if you want to wear some slightly more bold shades for Autumn & Winter. I think the YSL lipstick is a show stopper, and it's true colour is more similar to the models lips. I would always recommend putting a strong colour on with a lip brush, as it helps you get a better and more precise finish.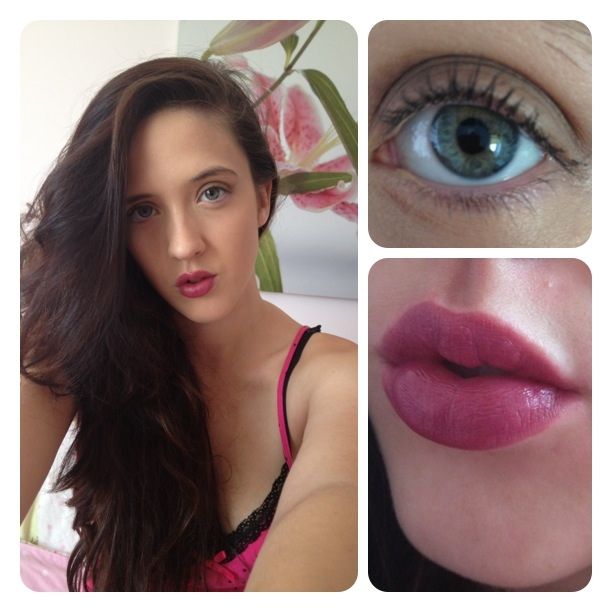 I would love to know what you thought about this look ?