Hey My Loves!
With September swiftly out the way, I can't actually believe its October!!. I am kind of excited for Winter though, I enjoy Halloween, Bonfire Night & Christmas and getting all snugly haha!!. My September favourites are mostly holiday related, but saying that my holiday seems so long ago now (I only got back last Friday).
I'm just trying to think If I have any other updates for you ? - I have been busy with uni work and my intern work, so once I get a break from that in 2 weeks I am going to really put effort into my business which is
www.jewelbyindiar.com
. I need to add more stock to the website etc, so I will keep you updated with that.
I will be at the #bbloggers chat tonight, so a very warm welcome to my blog if you are visiting me via the #bbloggers chat!.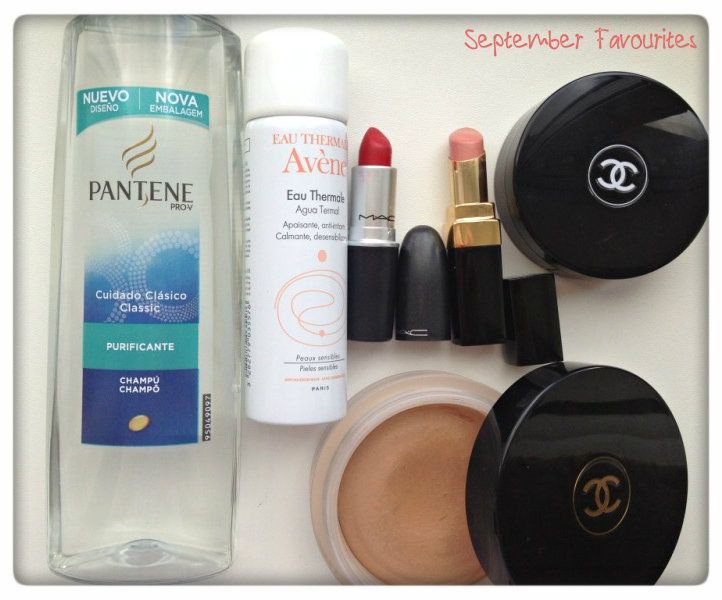 Pantene Clarifying Shampoo
Haha Yes! I did buy this in Spain just in case you are thinking, why does she have it in Spanish ?. I enjoyed using this shampoo, as I needed something to help me refresh my hair after beach days and nights out. I have started using a more moisturising shampoo since being home, but this is a really great and a cost effective shampoo to use when your hair needs a bit of a clear out!.
Avene Thermale Water Spray
Ahh! I really do love this product, It's kind of a cooling, setting and toning spray all in one. I found that this calmed my recently problem and slightly red skin right down, and my skin has gone back to its normal self. I sometimes just find myself spraying this for the fun of it which is not a cost effective way of using this product haha!. However, I do really love it and would recommend it at an instant.
MAC "MAC Red"
Thanks to the lovely
Sophia
I am now the proud owner of MAC "Mac Red". I must admit I was totally scared of Red lipsticks, but now I am actually in love with this shade. I have it featured in my Lip Choices post below, and its just the most perfect cool toned cherry Red. I think this will be a favourite for a very long time to come haha!.
Chanel Rouge Coco Shine 48 Evasion
This lipstick is probably my most talked about lipstick, as its just the most beautiful and wearable lipstick and a true HG for me. I used this for my daily looks on holiday, and it gave me a lovely Pinky/Peach sheen as well as moisturising my lips in the heat.
Chanel Vitalumiere Aqua Compact B30
This was my go to foundation for my nights out on holiday, it gave me a natural semi matte look with a really nice medium coverage. It's also very handy in the compact, and became a handbag essential on holiday. I adore this foundation, and in total I am on my 6th Vitalumiere Aqua, as I have had it in compact and liquid forms.
Chanel Bronzing Base
Finally, I have another holiday favourite! this should be "Holiday Favourites" really haha!. However, this was such a great product for transitioning my look from day to night. I used it to contour, and it gave my face great definition which was great for a bit more night time intensity.
So now its officially time to say goodbye to summer, and I can't wait to do my October favourites which will be filled with all my Autumn must haves!.
Would love to hear from you beauties below!