WOW* Two posts tonight beauties! I finally have enough time to just concentrate on my blog and it feels amazing. Tonight I want to introduce to you a moisturiser that I have rediscovered from my vast skincare collection, as I have absolutely fallen in love with it and feel that this product is definitely due a review. I'm just going to refer to it as the Avene moisturising emulsion as the name is a bit of a handfull and would make this post huge if I kept writing it haha. For so many years I was wondering why my make-up was vanishing, even though my skin didn't actually feel that oily ?! - Finally, a few years ago now the penny dropped, and I realised that I was often mixing an oil based moisturiser with a water based foundation or vice versa. So now I have got into the habit of making sure that if I'm using an oil based foundation I also use an oil based moisturiser and the same for my water and silicone based products. Once I started doing this I noticed how much longer my make-up was lasting and that I actually didn't even need a primer. The reason why I am posting about this water based moisturiser today, is because I have fallen back in love with my Chanel Vitalumiere Aqua foundation which is also water based! and the results have been absolultey amazing.
I have always been a huge fan of
Avene and I have a serious love for the thermale water which is so incredibly soothing. The main talking point of the brand Avene is the Thermale Water, which is the main component of Avenes products. (Avene)

Very low mineralised, rich in silica and trace elements, the Avène Thermal Spring Water has been clinically proven to be naturally

soothing, anti-irritating and anti-free radical

. T
he Avène Thermal Spring Water is bottled at source and manufactured in a
sterile unit
at the
Avène Dermotological Hydrotherapy Centre
.
The water is tested every day and a specific laboratory has been created to do fundamental research on the properties of the water. You can also watch a short video about the Avene Thermale Water Here
Since combining the Avene Moisturising Emulsion with my Chanel Vitalumiere Aqua Foundation I have had lovely hydrated skin, with a flawless finish that really has lasted all day. I love that this product has such a large concentrate of the Thermale Water, as it really does feel like your skin is being properly hydrated. This
particular product is designed for normal/combo skin types, as even though its hydrating it isn't thick or heavy in its consistency. Products with a high water content are also the best kind for dealing with combination skin types, as it hydrates but doesn't put too much into the skin. The emulsion also has a Green tint which helps to combat Redness, but don't worry! it sinks straight into the skin without leaving any trace of Green. It also has an SPF 20 which is amazing, as I can just put some on really quickly and enjoy the sunshine.

What I don't like ?
Overall this is a nice and simple moisturiser for girls with normal/combination skin who also have slight Redness. It's really soothing and makes your skin feel extremely calm and relaxed. This product does have a slight fragrance which reminds me of baby wipes, which I find quite a calming/comforting smell, but if you are sensitive with scents then maybe you would be better opting for a fragrance free option like simple skincare. I actually find the Simple hydrating light moisturiser to be quite similar to this, so that could always be another option if you wanted an orderless and colourless moisturiser.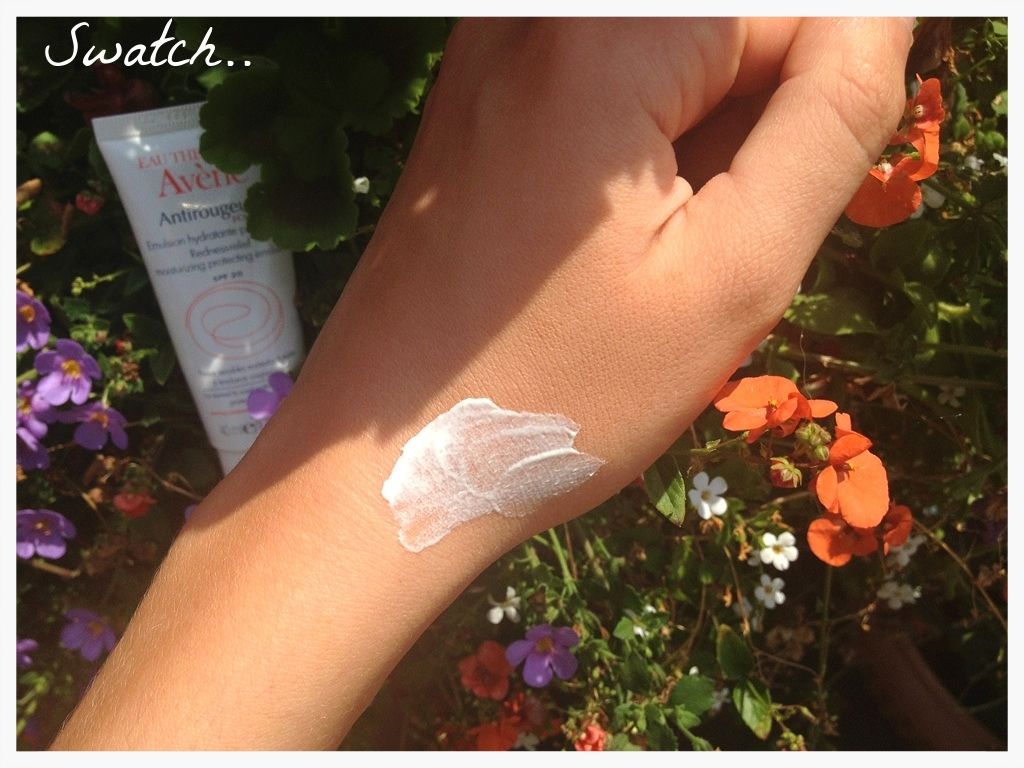 Overall
I love this moisturiser and feel like it has become a real staple in my skincare. I often flit between products, but I have been loving the flawless effect of this product underneath my Chanel Vitalumiere Aqua. Avene is always on offer online and you can also get it in boots! I think the brand is well worth checking out and the Thermale Spray Water is a personal favourite of mine. If you suffer with combination skin and you are prone to slight Redness, then I couldn't recommend a nicer or soothing product that the Avene Moisturising Emulsion.

Hope you have enjoyed reading this beauties :) and I would love to know what moisturiser you are currently using ?

Love
India X