Hi Lovelies!
So it seems that Sunday has become my "Boots" day, as I like to take a relaxed stroll around boots having a look at whatever takes my fancy. I say relaxed! but its not really, as I usually have my boyfriend nagging me to hurry up and also saying "you don't need this" "you don't need that" but do you think I listen ? noway haha! - I picked up some random goodies today which included some more Vita Liberata Tan a Yankee Candle some shower gel and a breast cancer support pen! and not to forget a Maybelline Baby Lips woohoo! I keep forgetting that they are in boots, but today I managed to spot some, but sadly there was only two flavours left.. I guess they must be popular haha. Anyway, I decided just to pick up "Peach Kiss"which is right up my street as I love anything remotely peachy. I also quite liked the fact it looked like a good shimmery nude, which is something I like for summer and holidays. I did want the Cherry flavour :( better luck next Sunday I hope haha. Anyway beauties! I will get into my initial thoughts post now, which I hope you will all like!
New Baby Lips lip balm from Maybelline New York gives intense care and 8 hour hydration, and is nourishing for baby soft lips. Its clinically tested formula has a hint of colour and leaves lips feeling soft and smooth.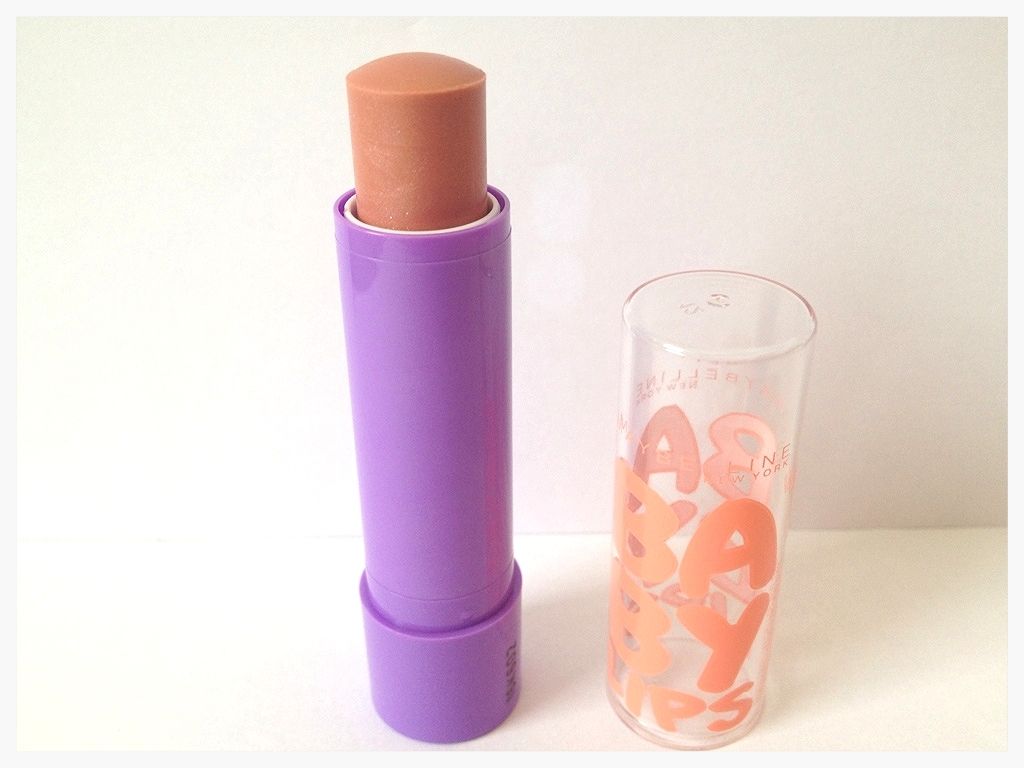 The Review
I think what stands out to me initially is the fun packaging! as much as I like my classy Chanel Rouge Coco's I still like to inject a bit of colour into my make-up bag. I love the different coloured packaging and the bold writing and think it makes the product look cute, summery and not too serious. Moving onto the shade "Peach Kiss" its a bronze peachy nude with some shimmer.
I decided on Peach Kiss because I love anything with a Peach scent or shade, but I also liked the fact it would probably be a no fuss kind of lip product, and that is definitely what it is. The colour pay off is very little with this particular shade, but it does give a hint of a peachy glow, which I thought would be nice for my up and coming holiday to Florida. I wanted something quick to apply with a slight hint of colour, so this product ticks those boxes quite nicely.
They do feel quite moisturising at first, but I think these products are more of a quick fix and won't help with damaged lips. I think at the most they will give some moisture and shine for a few hours. They do have some great moisturising ingredients like aloe and honey, but they do have a large proportion of petroleum, which usually only masks dry lips.
Overall, I think that for £2.99 you get a fun product, which will add moisture and some colour to your lips. If you are looking for a long term fix then I would probably look elsewhere and for a product with more natural ingredients within it. I'm pretty excited about purchasing some more shades though, as they are a really nice little product for the price.
I hope you enjoyed this review lovelies! I am currently planning some new posts, so I hope you will keep checking back to see them :) - I just wanted to say how much each comment means to me! I really appreciate you as my followers and friends and if you ever need me I'm just a tweet away!
Love
India x