The other day I went on a bit of a pre holiday shopping spree! I ask myself why I spend so much money before
holiday?
And why don'
t I just save up my money
haha
. Anyway, I actually made it my mission to make sure I popped into see my lovely friend Megan, who works at the NARS counter. I had spoken to Megan and she told me about a new palette they had in, which sounded right up my street! – It was super lovely to see Megan again, as we previously made friends when I visited NARS and found out we were both bloggers *
yay
* so it would be great if you could check out her blog link
Phazestyle
. Anyway, Megan was right the palette was beautiful and just what I needed to take on holiday with me! I also picked up a cheeky
lipgloss
, which I have been dying to get my hands on for ages. The gloss I picked up is actually Kim K's favourite (love her or hate her) but her make-up is always flawless, and her lips are always a beautiful milky pink shade. Today's post is going to be a bit of a show and tell, as I have not tried either of the products yet, but don't worry! I will be back with a full review of both products after my trip to Florida. As always my
lovelies,
feel free to comment below and also to leave your blog links for me to have a look at!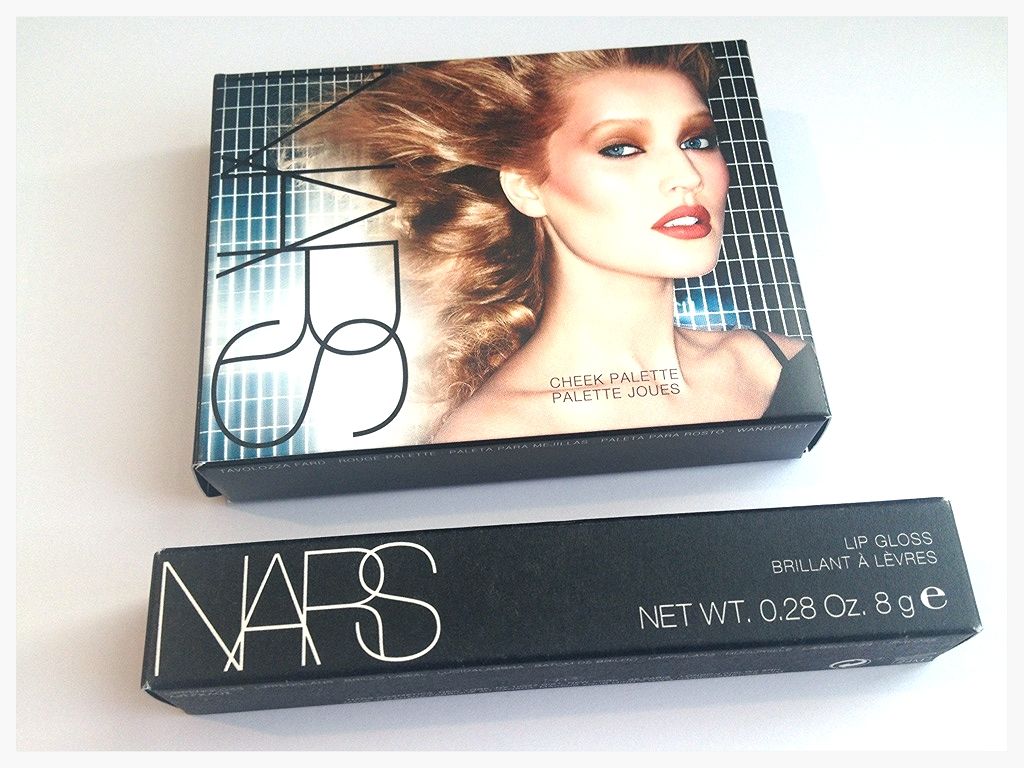 Adult Content Palette!
£30.00
WOW! This palette is total NARS overload and may I add a great way to try out some fabulous NARS blush/bronze/highlight shades if you haven't t
ried anything from NARS before.
Also a quick mention to the rather naughty name of this palette! But I'm sure we are all used to NARS and their cheeky product names by now
haha
.
The palette consists of my FAVOURITE NARS blush "Deep Throat" so that was an instant bonus for me, as
its
such
a versatile blush shade. I was also really impressed by the three other shades, which create the perfect palette for doing everything you need! Blush, Bronzing and Highlighting!
ZEN – NARS ZEN is a natural Beige Blush, which can definitely be used as a
bronzer
, and I can imagine it will make a fantastic contour
shade.
MISS LIBERTY
–
is a stunning shimmering Peach, which can be used to highlight the face
DEEP THROAT

–

An all round perfect blush shade with a perfect balance of shimmery Pink and Peach
DESIRE

–

A perfect pop of Cotton Candy Pink, which would be fantastic for creating a bolder look
I have used quite a few NARS products now and I'm in love with the quality of all of their products, especially
the textures of their blushes. I can't wait to use this palette and let you all know what I think, this palette is actually limited edition, so if you are interested I would totally recommend you visiting your local NARS counter, or ordering it online.
NARS Turkish
Delight
Lipgloss
£17.00
This is a product that has been raved about for so long
now
, but as I have a large lip-gloss collection I never really felt like I needed to purchase it. However, now the autumn/winter is coming upon us (a little too quickly) I decided to treat myself to this lovely and highly rated lip-gloss from NARS. Turkish
Delight
is a beautiful Milky Baby Pink, which is a firm favourite of Kim Kardashian. It has slightly cool undertones, which means that it will suit quite a lot of skin tones. I go crazy for this kind of colour during the winter, as I think with flawless make-up it looks absolutely
amazing in the cold
crisp weather.
Hope you have
enjoyed this show and tell post lovelies! I would love to know what you think about these
products ?
and
is there any NARS products you would like to try ?
or
perhaps any you could recommend me! Don't forget to leave your comments, links and questions below :) as I love hearing from all my loyal and supportive followers.
Lots of love
India X