Hi Beauties!
Tonight's post is going to be a complete rave about two amazing face masks... yep you guessed it ;)
Origins Clear Improvements
&
Drink Up Intensive

!
Both masks have certainly got themselves a fantastic name throughout the beauty industry and blogosphere. Origins are well know for their amazing skincare, but even more so for their super duper amazing face masks. I wanted to feature these products together with mini reviews first of all, as I have been using them for a few weeks now. However, I will also be doing more in-depth single reviews in a few months time, so make sure you keep and eye out for them lovelies. Firstly, I purchased the
Clear Improvements mask
purely on blogger's recommendations, and then I purchased
Drink Up Intensive,
as I totally fell in love with a sample I got with my Origins order. I have been using my
Clear Improvements mask
on a Sunday night to completely clear out my skin from the previous week, and then I have been using my
Drink Up Intensive
to give me that much needed mid-week boost. Since using these masks in conjunction I have honestly noticed such a big big difference in my skin, and I'm just annoyed with myself that I didn't get around to trying them both sooner. However, I will quit with my rambling! because I'm sure you would much rather me get into the review haha! Hope you enjoy lovelies, and I would love for you to leave your comments/links in the comments section below.
Origins Clear Improvements Mask £22.00
The Origins Clear Improvements Mask is designed to completely clean up the skin. The active Charcoal within this Mask acts as a dirt magnet to completely de-clog your pores, which leaves your skin totally clear. The White China Clay also helps to absorb pollutants, and lecithin dissolves impurities. If you are looking to clarify your skin, then this mask is an absolutely the right one to go with. I have been loving using this mask on a Sunday night to completely cleanse my skin from the previous week, and to make sure that any build up has been completely removed for the week ahead.

The mask has a thick consistency and is very Dark in colour (Might be something to do with the Charcoal haha) - Once applied it does set quite hard on the skin, but I quite like this as it feels like it really is pulling the dirt right out of your pores. Despite it being quite a heavy mask I find that it washes off quite easily, and its best to open the pores with a warm flannel..then close the pores with a cold splash after applying the mask. Overall, this mask is absolutely amazing and does exactly what it says on the tube!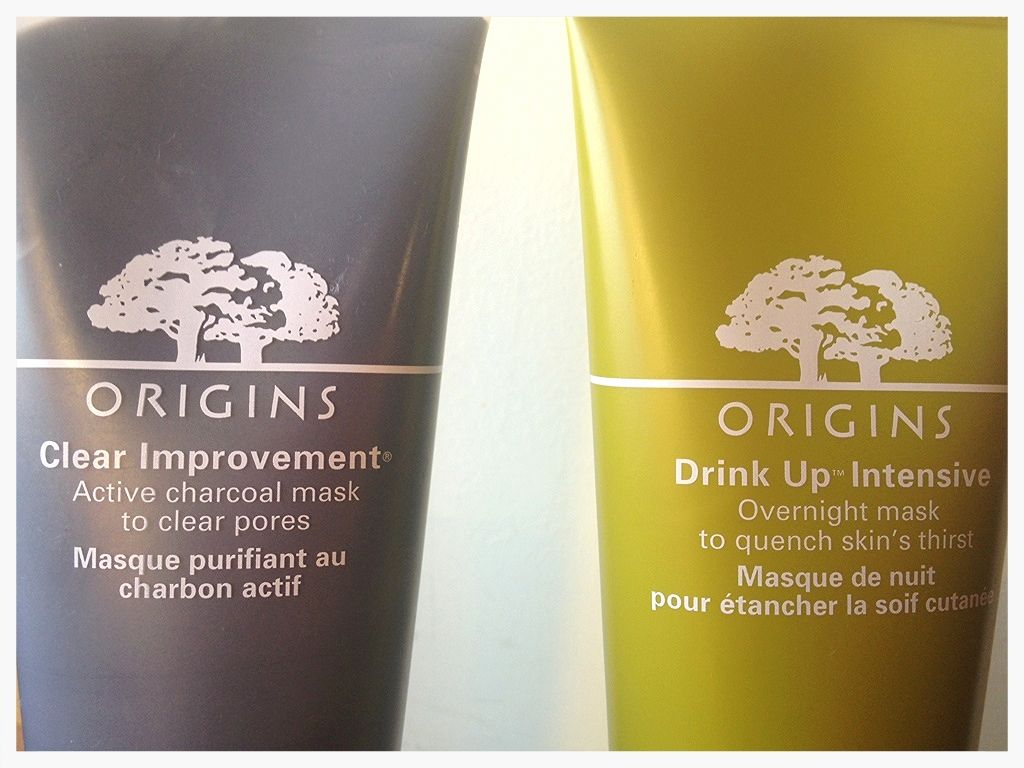 Origins Drink Up Intensive Mask £22.00
After using up a free sample of this mask I can definitely see why it is one of Origins all time best sellers. I was instantly sold on the gorgeous peachy scent, but after a few uses I realised it had much more to offer than just a pleasant smell. Japanese Seaweed helps to repair the skins barriers to help prevent dehydration, as well as creating a moisture reservoir for the next day.
I tend to use this maximum of twice a week to really give my skin a much needed mid-week boost, so this is usually my Wednesday mask haha! I use a thin layer just before bed, and its creamy formula makes it a luxurious bed time treat. Even though this mask is quite thick and creamy it does sink in to the skin really nicely, without leaving any residue at all. I wake up the next morning with plump, radiant and beautifully moisturised skin. I would recommend this mask for all skin types as even oily skin needs to be kept moisturised. I think that together these masks are (expensive) but an amazing way to give your skin exactly what it needs... a good clear out, but also a good treat.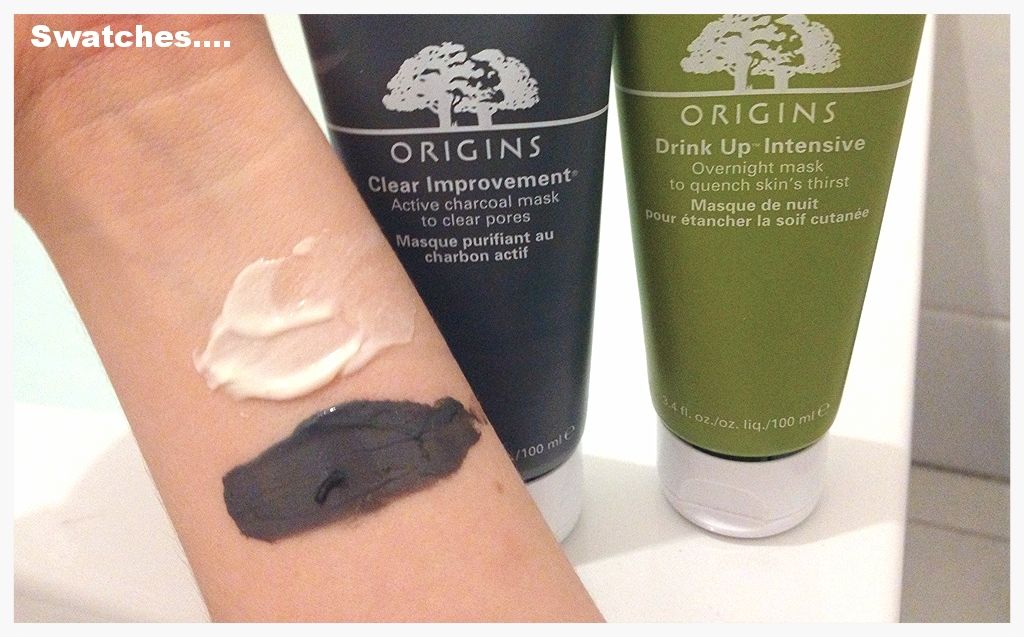 Overall ?
Without a doubt two of the best face masks I have ever used! they are expensive at £22.00 but I would say 100% worth it. They both have something to offer, but more importantly they deliver exactly what they say they do. Origins now do smaller sizes of these masks, so you can get 50ml for £11.00 plus some free samples on the website. If you are more oily then I would definitely go for the Clear Improvements, and I would honestly recommend the Drink Up Intensive for all skin types. If you are combination like me, then you will definitely appreciate both masks. I honestly couldn't pick a favourite, as they are both so amazing! - My skincare routine has never been better thanks to these beauties.
Hope you have enjoyed this review lovelies! I absolutely love hearing from my loyal readers, and don't forget to leave your links below
Love
India X
Disclaimer - Both products were purchased with my own money, and have not been recieved for PR reasons.