Tonight's post is going to be a follow up from my recent "Morning Skincare Routine" Post. I am really happy with both of my skincare routines at the moment, and thought It would be a great idea to share what I'm loving with my lovely readers. I must admit I do prefer my Evening Routine, as it feels a lot more relaxing. The products I use at night tend to be heavier, as I like to make sure my skin is properly cleansed from the days dirt and makeup, as well as preparing my skin for the next day. I have been really focusing on skincare recently, but my next few posts are going to be devoted to my favourite make-up products at the moment. I was also thinking of doing my "Spa Face Tutorial" as it would be a great way to share with you what products I love to use for work. Well lovelies! I will stop with my rambling now and get straight into my "Evening Skincare Routine" Enjoy!
My evening routine is always more thorough! I love making it into my own little spa time. I always tend to light a candle, run a bath and make myself a herbal tea before bed! So my evening skincare turns into my own little relaxing ritual. It's so important to try and fit in some "me time" into your day and I find my evening skincare routine is the perfect time to do that.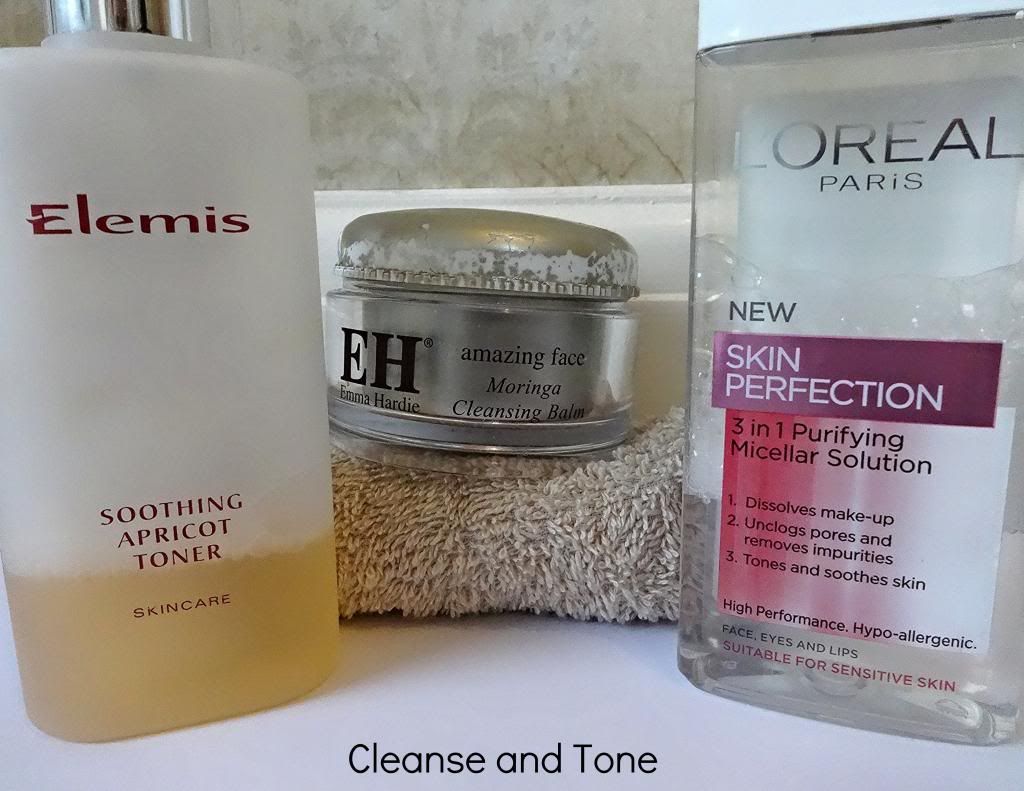 To star my routine I always use my L'Oreal Micellar Water to remove any surface dirt, as well as using it to remove my eye makeup.
I then use my beloved Emma Hardie Cleansing Balm to thoroughly remove the day's makeup and dirt. I love the fact that this is an oil-based cleanser, as it does an amazing job of melting away the dirt and leaving the skin perfectly balanced. It can also be used as a mask, so I tend to leave this on for a few minutes before I remove it with a warm face cloth. Despite this being the best cleanser I have tried.. it actually has the worst packaging ever!! (as you can see) and this pot got in this state after very light use within about two weeks :(
I follow my double cleanse with my Elemis Soothing Apricot Toner as my evening toner. It smells absolutely amazing and really finishes off the cleansing part of my routine without leaving my skin irritated.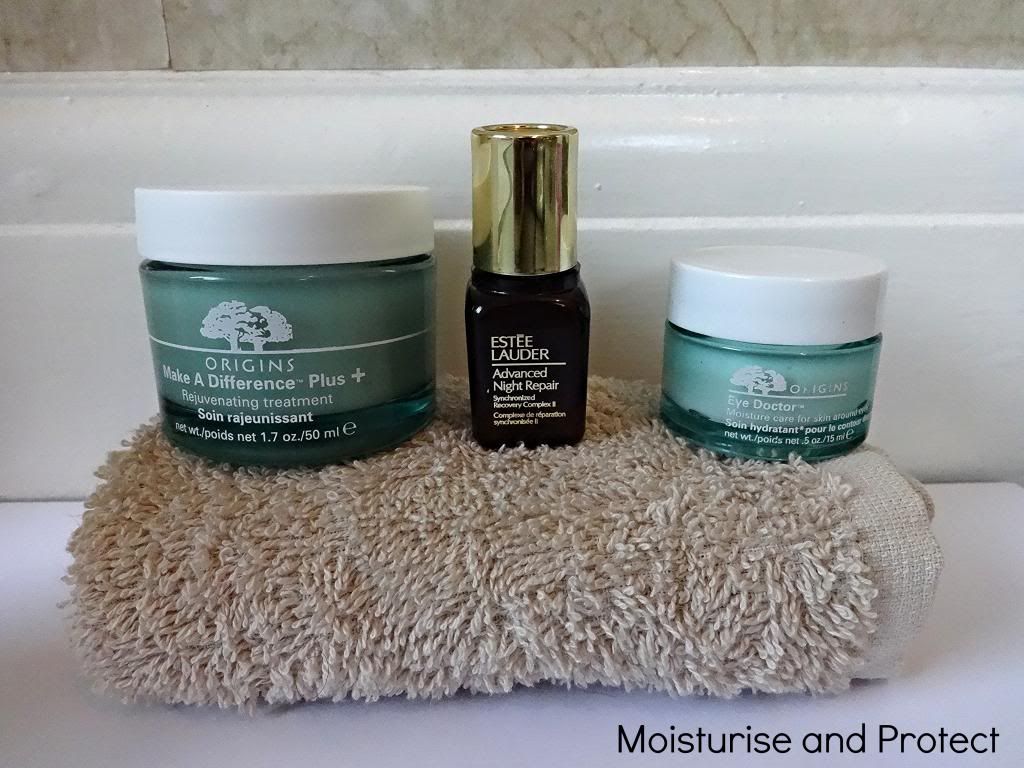 I received the Estee Lauder Advanced Night Repair II as a sample, and have been loving using this as my evening Serum. It's actually a really generous sample and can see it lasting me another two weeks. I will 100% be purchasing the larger size of this, as I have already seen an improvement in the texture of my skin. It's never to early to start anti ageing, and this product is a great place to start.
I love using my Origins Make A Difference + Treatment as my nightly moisturiser, as it really focuses on building an intense level of hydration for your skin overnight. It is oil free, which makes it great for my combination skin! And I always wake up with lovely plump and hydrated skin in the morning.
In the night I swap my

Ginzing

Eye Cream for the Origins Eye Doctor. I love this at night because it's quite thick, and it does a great job at

moisturising

the area surrounding your eyes. It doesn't have any dramatic claims, which I really like, as it's just a great product for generally looking after the eye area.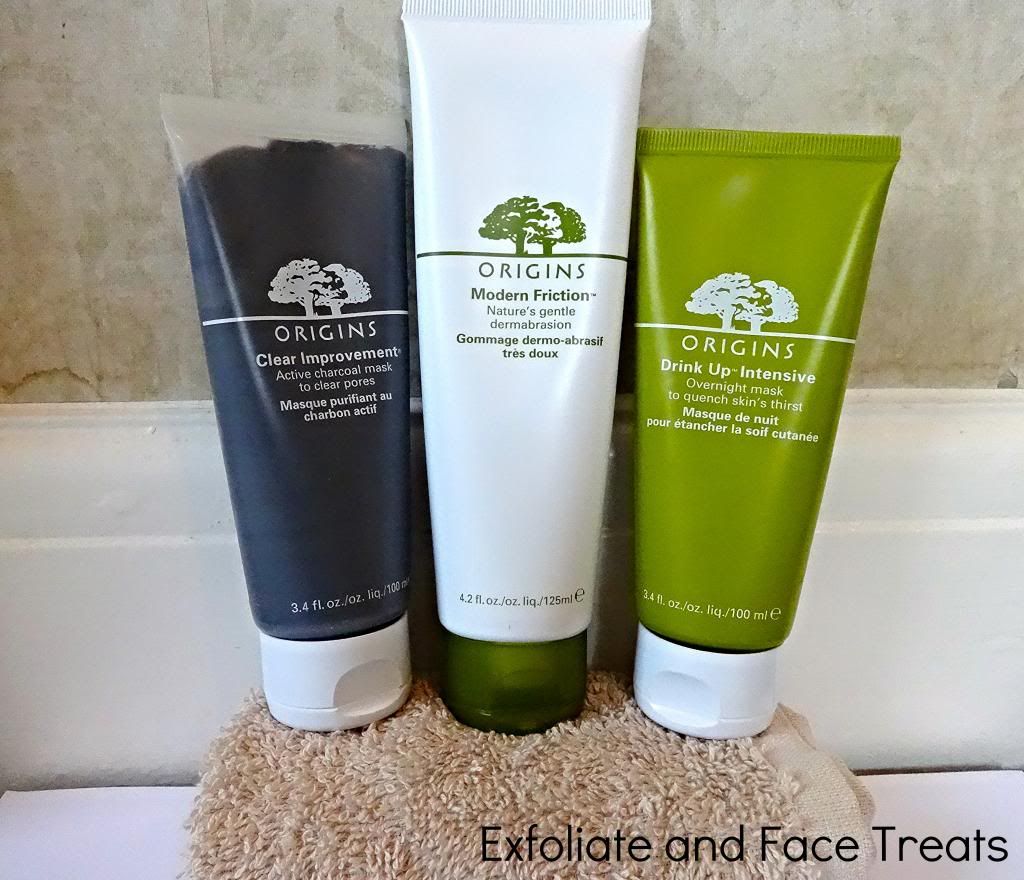 I usually exfoliate around twice a week, and I have never used a better
exfoliator
than the Origins Modern Friction, which is described as "natures natural
dermabrasion
". It does an amazing job of removing dead skin without being to harsh on the face! plus it leaves your face feeling super smooth and
squeaky
clean.
I always swap around my face treats all the time! and two of my favourites are my Elemis Herbal Lavender Mask, and my Elemis Fruit Rejuvenating Mask! However, I'm currently using my Origins Masks, which are also totally amazing.
Origins Drink Up Intensive Mask
This mask is amazing, and well worth the hype! As you don't need to wash it off, and my skin always looks amazing in the morning (plus the apricot/peach scent is yummy)
Origins Clear Improvements Mask
I use this mask on a Sunday to completely clear out my skin! The charcoal acts as a magnet to clear out all of the week's dirt. My skin is left without a blackhead or clogged pore in sight.
So Lovelies! that is my evening skincare routine done and dusted. I hope you have enjoyed reading my skincare posts, and as always I love hearing from my lovely readers. If you have any skincare questions, or would just like to comment about something in this post, then please just leave it in the comments section below.