Hi Beauties!
I have literally just come back from Florida and OMG I'm already having withdrawal symptoms. I feel absolutley horrible and quite depressed after leaving gorgeous sunshine, shopping and loads of fun behind. Today's post is going to be one of the most exciting posts I have ever written, and I can definitely say that Disneyland does make dreams come true! I have a feeling this is going to be quite a lengthy post, as I have been itching to write this exciting post for you lovelies, so hopefully you can share my excitement haha. If you don't already know I am a total beauty, lifestyle and handbag addict. Me my mum and two sisters have our own individual collections, which is amazing as we often swap them around. I have also been very lucky to receive some vintage pieces from my mums collection, which I have added to my growing handbag collection.
Anyway! There has been one bag on my mind for the longest time, and it is a bag that has become so sought after that even celebrities are going on wait lists.
The Chanel Classic Jumbo Handbag
is probably one of the if not the most classic handbag of all time. The "Flap" bag comes in different variations, but it was the first successful design that Coco Chanel ever released.
The original version was constructed of jersey or leather, the outside featuring a hand-stitched quilted design influenced by the jackets worn by jockeys. The chain strap was a nod to her orphanage years, reminiscent to Chanel of the abbey caretakers who wore such waist chains to hold keys. The burgundy red uniform worn by the convent girls was transmuted into the bag's interior lining.
I first started properly pursuing this handbag in July this year, as my parents wanted to get it for me as a 21st Birthday Present, but it had become so rare that it was impossible to find at the time of my birthday. I decided to get in contact with my Chanel SA Bettina in Florida, who had previously sold me and my mum a few Chanel goodies including my PST. Bettina made me aware of how exclusive these handbags were especially with the Gold Hardware, which is exactly what I wanted. However, I kept in regular contact with Chanel, and Bettina assured me she would do her very best to get me my dream jumbo. Anyway, it came to the time to finally get on the plane to Florida and see if I had been lucky enough to get the handbag. The day before I had been given some not so great news, as it seemed that the bags might have become unavailable for purchase. As you can imagine I was quite upset, but at the same time I was so so grateful to be having such an amazing time in Florida with my family and boyfriend.
The next day I decided to venture into Chanel anyway to see Bettina and also to have a look around the boutique. I can honestly say that when Bettina revealed she did have a Jumbo for me I was actually speechless and I was totally surprised. However! the drama didn't end there as Bettina told me that they had maxed out the amount of Gold Hardware Jumbo's that they could sell, but they still had a Silver Hardware Jumbo available (which was lovely) but I had my heart set on the Gold Hardware as it is truly classic and goes with everything in my wadrobe haha. The next thing I knew another SA come over and said that she hadn't actually received the official paperwork to say that they weren't allowed to sell me the last GHW Jumbo. So as you can imagine we rushed the payment through and moments after the paper work came down to say that they weren't allowed to sell another handbag! OMG talk about having luck on my side :O - I was already feeling totally spoilt at this time, but then my parents also knew how much I wanted some Chanel Ballet Flats and let me choose a pair which I will do a separate post about soon. If that wasn't enough two girls came into the store asking about a Black Caviar Jumbo with GHW and I had just brought it.. so I felt totally blessed to actually own such an exclusive handbag.
As you can imagine I am extremely grateful to receive such beautiful gifts from my parents, and I can't wait to do some Autumn/Winter inspired fashion posts for you. I know this has been one hell of a lengthy post, but I'm sure you understand how excited I am haha! literally like a big kid right now and I still can't believe that I own such an amazing handbag. I just realised that the bag was actually more expensive in Florida due to tax, which made it the same price as the Maxi which is a size above, but the jumbo is my perfect size :D It still feels unreal to actually have been lucky enough to get this bag when there are celebrities waiting for them - Being a true handbag addict I do have some other purchases in mind so keep your eyes out for them in the future. I am going to stop with my rambling now and get into a picture post :D
LIVE REVEAL
[Please note these pictures were taken with my Iphone and not my camera, so the quality might not be amazing, but I wanted to capture me officially opening my bag]
[Walking towards the Chanel Boutique hoping I was going to find my gorgeous Jumbo]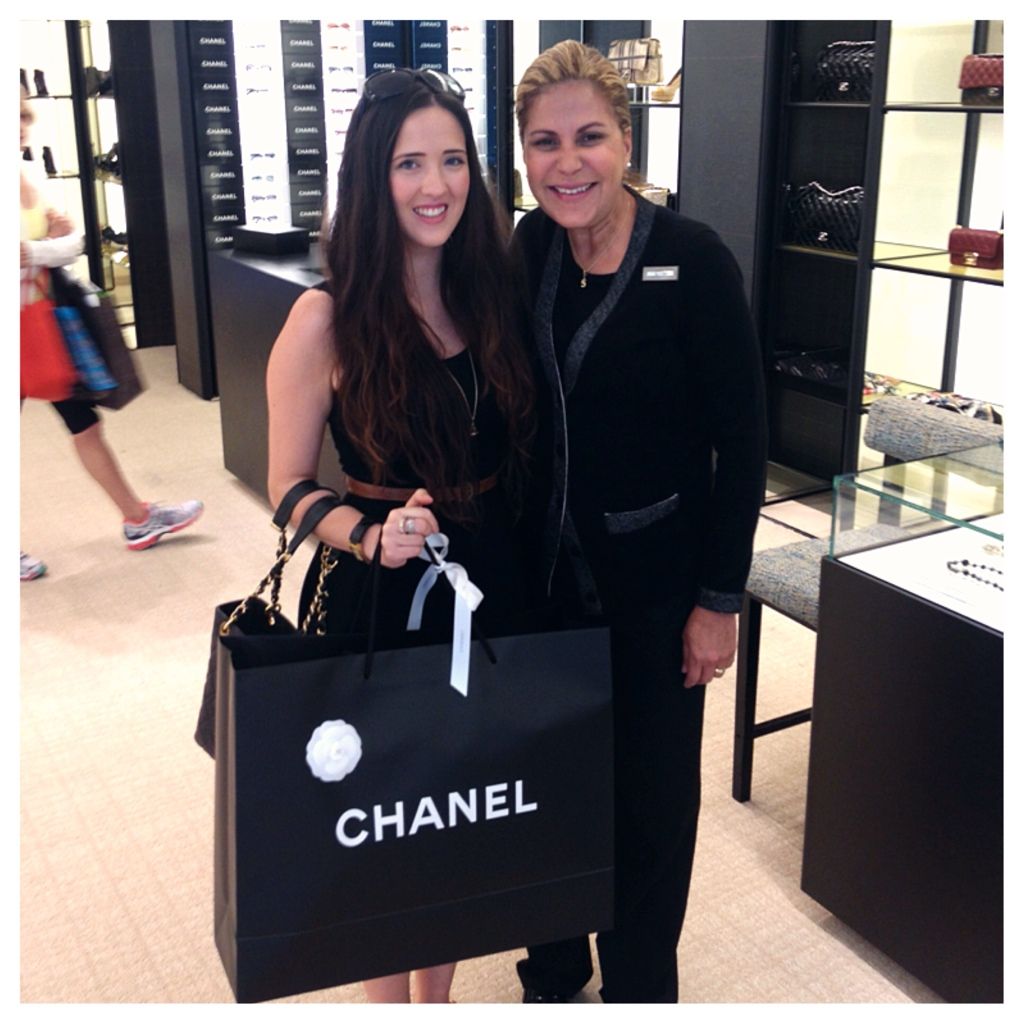 [OMG!! I found my Jumbo & Having my picture taken with my amazing Chanel SA Bettina]
[Me and my dad having a picture #bestfriends]
[My Chanel Purchases]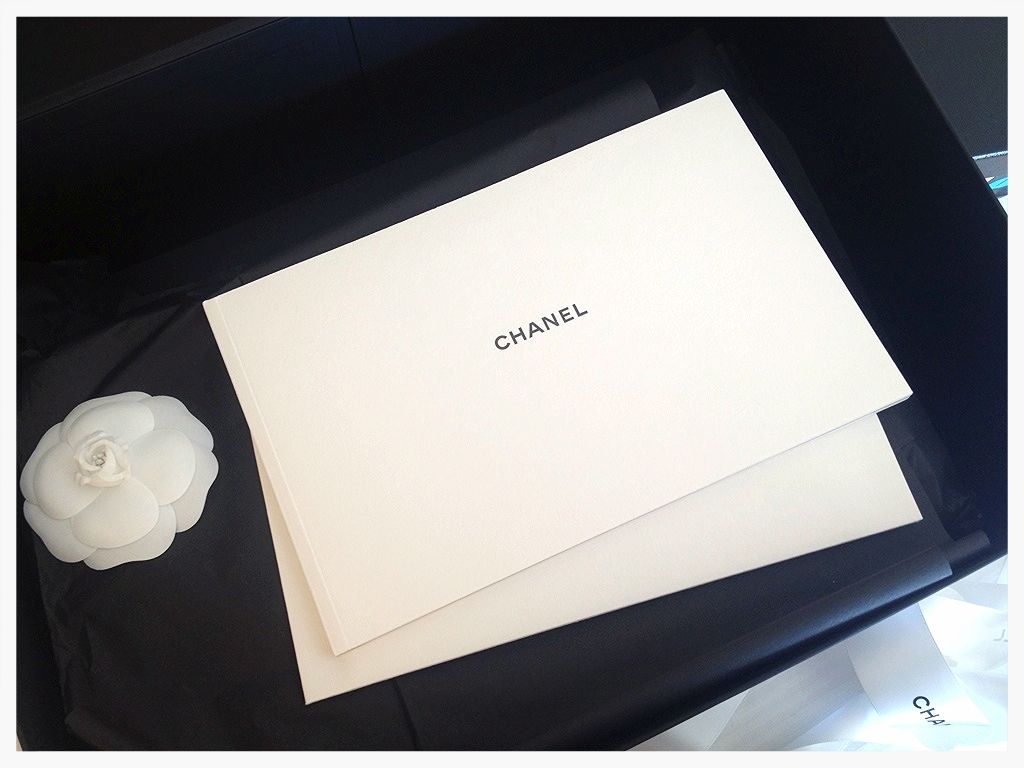 [My Paperwork & Authenticity Card & A beautiful Camellia Flower]
[The beautiful dust bag that represents the classic Chanel quilting]
[Getting ready to finally reveal my beautiful new purchase!]
[OMG :D after so long of waiting and wondering it is officially mine!!]
So that is the reveal post done for now! The chain is still in its protective wrapping and as I have only just got back from Florida. I haven't actually fully unwrapped it yet, as soon as I got back I had to pack it away safely for my flight home. I am yet to properly unpack my purchases, so if you would like to see my next Chanel purchase and also my other shopping purchases, make sure you check back soon. I absolutely adore all of my readers, and would love for you to share your links and comments down below! and thank you for reading this mammoth post ;) haha!
Love
India X
Disclaimer - This post is in no way intended to brag, but instead to share something I have a genuine passion about :)