Hi Lovelies!
I'm still totally having withdrawal symptoms from Florida! I just can't get over how much fun I had and how much better life seems when your days are full of family, fun and sunshine. Anyway, amongst my other shopping I purchased a lovely make-up bag from Victoria's Secret, which may I add is such a beautiful shop. I'm always changing up "What's In My Makeup Bag" but I decided that it was a good time to do a new post, especially with my pretty new makeup bag. I haven't added or taken away any products, so these are exactly the products I'm using right now. I hope you enjoy this post beauties, and as always if you need any help and advice then make sure you leave your comments in the section below.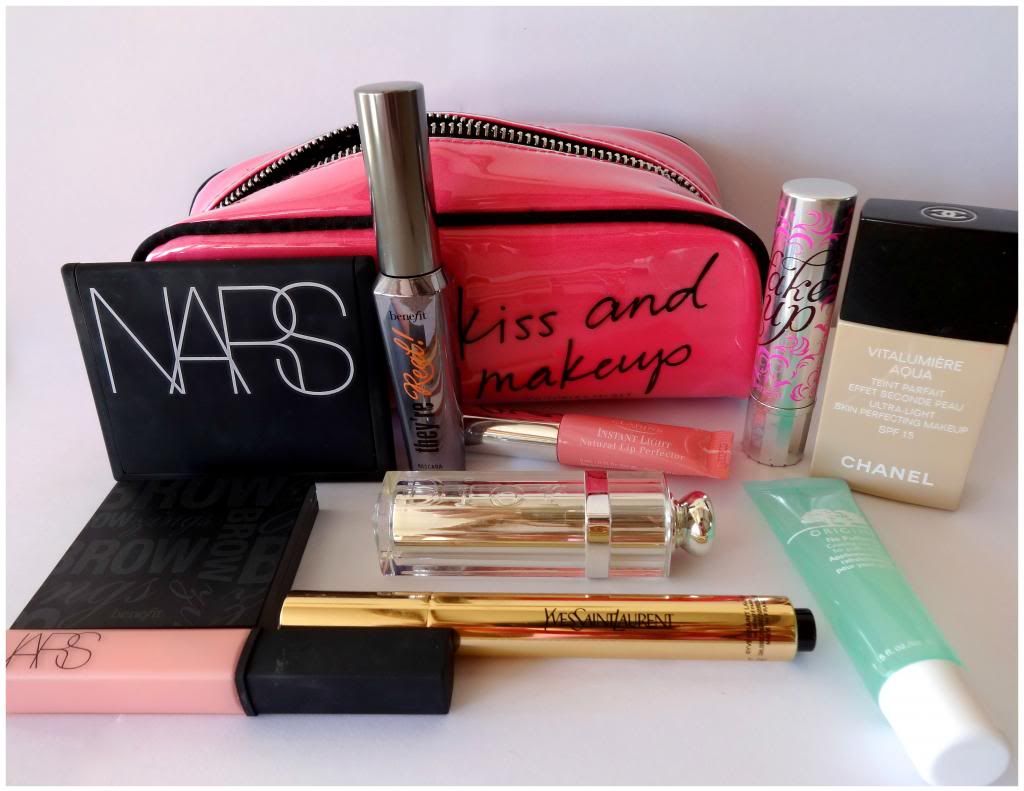 What's In My Makeup Bag ?
Chanel Vitalumiere Aqua Foundation B20
This has to be my most raved about foundation of all time and unless something dramatically changes, then I can see this being in my collection forever :) - It really does create a flawless finish without being heavy in the slightest.
Benefit Fakeup Concealer #1
This concealer is absolutely amazing at covering dark circles, as well as keeping the eye area hydrated. It also doesn't crease, which makes it look super natural all day long.
Origins No Puffery Eye Roll On
I always like to keep this handy, as it is an instant pick me up and helps to soothe tired eyes. It also doesn't affect your concealer, which makes it even better to have in your make-up bag.
Clarins Lip Perfecter
The perfect lip product for any girls make up bag! It plumps, hydrates and adds colour with its super comfortable formula.. It also smells absolutely amazing (If you like sweet scents)

Benefit They're Real
This is such an amazing mascara and gives your lashes an instant boost, which is great for awakening they eye area. I'm loving using it at the moment, and as it doesn't clump at all its a great option to keep in your make-up bag.
Dior Addict Lipstick (Summer 2013) 751 Exotique
This lipstick is a total show stopper and it is a beautiful Bright Pink, which can be dressed down to be a pretty pop of day time colour, or dressed up to create a statement look. It's also really comfortable on the lips, as well as lasting well before having to be re applied.
YSL Le Touché Éclat #1
The quickest solution to perfection :D It highlights and banishes dark circles within seconds, and it looks super gorgeous as well.

NARS Adult Content Palette (LE)
This was totally my best friend in Florida, as it has two gorgeous blush shades, a highlighter and a bronzer! - It's also fab to travel with in general, and its great to have everything under one roof!

Benefit Browzings Medium
Having structured eyebrows totally transforms my face, so this is a must have for me :D - It's also super easy to use and comes with mini tweezers to solve any brow dilemma's quickly!

NARS Turkish Delight
After lusting over this product it's finally made its way into my make-up bag, and the milky pink shade is great for the up and coming a/w season where Milky Pinks are currently on trend :D
So lovelies :) This is exactly what is in my make-up bag right now & as I travel back and forth to my boyfriends house, I like to make sure I have my current favourites with me in my make-up bag. I love hearing from my lovely readers, so if you have any questions then make sure you leave them below with your links for me to check out :)
Love