Hi Lovelies!
Hope you are all doing really well ? I think its safe to say that here in the UK the Winter has finally arrived. It's blustery and cold, and all I want to do is snuggle up in my most cosy PJ's. With the Wintery weather I have noticed my skin go from Normal/Combination to Normal/Dry, which is probably something to do with the cold and windy weather. So Today's post is going to be Skincare! woohoo my favourite topic haha. I am such a Skincare Junkie, but good skin makes me feel so much more confident, as well as helping my make up to look so much better. Skincare doesn't have to be complicated or expensive, and Elemis is the best skincare company for proving that! Elemis offer an amazing and very affordable skincare rage called
"Fresh Skin"
which is targeted from teens all the way up to mid twenties. The skincare is simple but effective, which makes it a great option if you don't want the hassle of a complex routine. Elemis have now officially released their Holiday Gift Sets, as well as Gift Sets for their Fresh Skin Range. Gift Sets are actually a really amazing way to try out a brand, as ofter they are much better value and come in a range of both full size and tester size products. It can be quite risky just taking the plunge on expensive skincare, so doing it this way is a lot easier and more cost effective. I will be reviewing the Smoothly Does It Gift Set, which retails for £25.00. I'm sure you are all aware that I work at an Elemis Spa and time after time I see very happy clients, so I'm very proud to work for such a fantastic British Brand. I have used some of the products from this gift set before, so I think I will be able to give you a really good review about the products. I hope you enjoy this review, and if you have any questions then don't hesitate to leave them and your links in the comments section below :D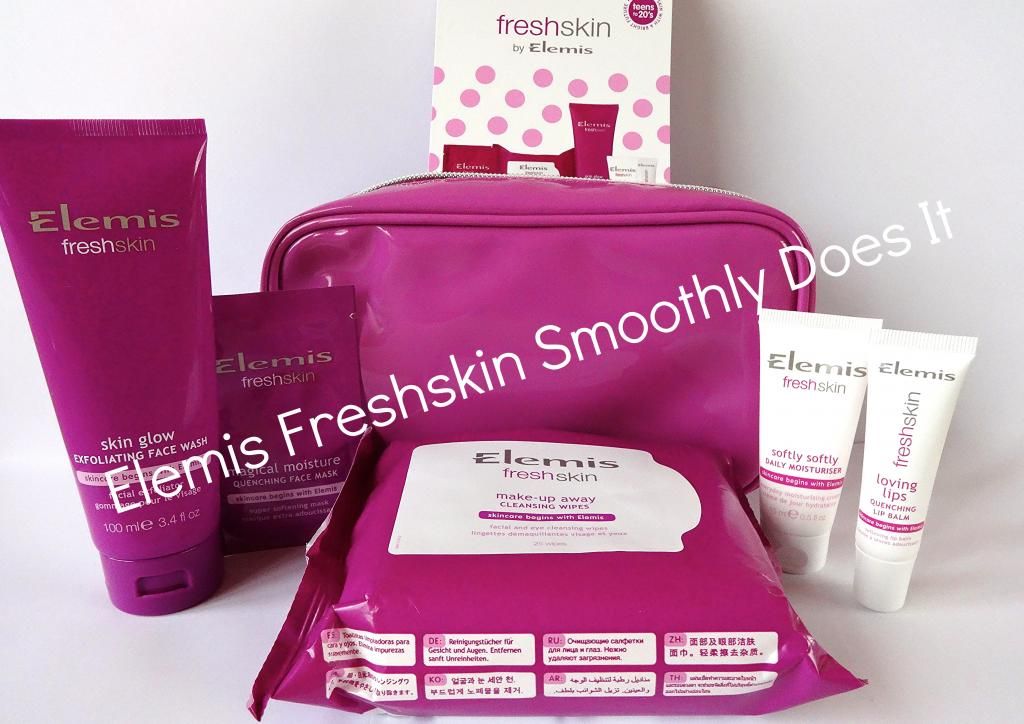 Elemis Fresh Skin Smoothly Does It Gift Set*
A gift set that includes everything you need to achieve cleansed, nourished and brighter looking skin. The products come housed in a lovely travel friendly Pink case, which makes maintaining your skincare a piece of cake, even when your on the go!
So what do you get ?
Freshskin Make-Up Cleansing Wipes (Full Size)
Enriched with Elderflower extract and Chamomile, these are definitely make-up wipes with a difference. I have found them to be super gentle on my skin, as well as leaving my skin feeling comfortable after using them. Most make-up wipes contain quite a lot of chemicals, but the gentle ingredients within the fresh skin wipes help to make these wipes far more soothing than any others I have tried. I don't really use make-up wipes that much, but they are really handy to have just in case you have any make-up mishaps.
Freshskin Loving Lips Quenching Lip Balm (Full Size)
The perfect way to combat Harsh winds, frost, and strong wintery sunlight which all contribute to painful chapped lips. Vitamin E, Sweet Almond Oil and Passionflower Oil all help to soften and condition the lips. I love the refreshing peppermint scent (which isn't too strong) it's really easy to apply, and has become a daily staple for me. I suffer really badly with chapped lips, so it is great to have a lip balm that not only keeps my lips moisturised, but gives them a plump glossy look too.
Freshskin Softly Softly Daily Moisturiser
Enriched with seaweed extract, Rose hip Seed oil and Sweet almond oil this light and non-greasy moisturiser is a great way to protect and moisturise your skin. The ingredients also help to give the skin an instant hydration boost, as well as helping to improve the skins radiance. I have used this moisturiser since the start of the year and its a great moisturiser especially for the winter time, as its very nourishing and soothing.
Freshskin Skin Glow Exfoliating Face Wash (Full Size)
A deep pore cleansing exfoliating face wash, which contains cherry powder and jojoba beads to gently polish and refine the skins texture. Enriched with mandarin and aniseed this Exfoliator helps to soften and condition, leaving skin clean and radiant. This is another product I have used for a long time now, and it is such a great staple exfoliator. It smells lovely! like a combination between Mandarin and cherry, and the jojoba beads aren't to harsh or scratchy on the skins surface.
Freshskin Magical Moisture Quenching Face Mask
A super softening face mask that contains white lupin, artic cranberry seed oi and apple extract to deliver an instant moisture boost, while aloe vera gently soothes the skin. Overall, your skin should be left feeling radiant and exceptionally soft. I must admit this was the total surprise out of the whole gift set, and an Elemis product I was yet to try. I honestly can't believe how good this face mask is, and how soft it left my skin feeling, this is definitely a dark horse product from Elemis and needs much more praise! The only one thing is that it comes in sachet form :( which makes it quite hard to travel with it or use it after you have opened it.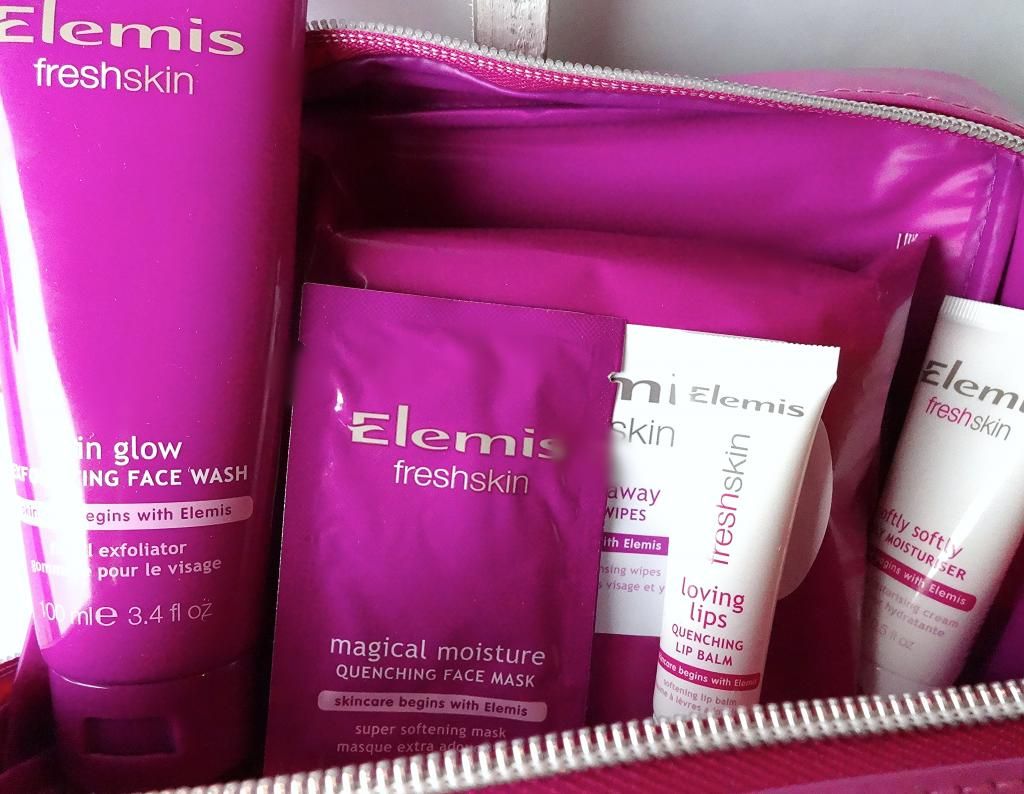 Overall
I think this would make an absolutely amazing gift for your daughter, sister, best friend or girlfriend with Christmas on its way. It is also a great way to try out some new skincare for a really good price, plus you get a super cute Pink Case..who doesn't love a cute beauty case? haha. The Smoothly Does It Gift Set retails for £25.00 (a saving of 35%) and you get four full size products which makes this a great gift set to try!
Purchase
Here
Love