Hope you are all doing really well! I have been a little stressed lately, as a lot has been going on with moving into my new house, work and of course it's my final year of university ahh!! However, I have been really getting back into blogging this year and I have made a few blogger resolutions. I have been spending a lot of time living with my sister who lives in a barn conversion, as my parents have been away a lot on holiday and business. So, as you can imagine my lighting situation hasn't been great! So I really want to try and improve my blog pictures so that they are as attractive as I can possibly make them. I also want to aim to blog 2-3 times a week like I was before, but with university I think that if I can do 2 good posts a week then I will be happy. The other week I went on a little shopping trip and picked up a few NARS goodies! I have really fallen in love with NARS this year, and I have quite a nice little collection growing now! I definitely plan to invest in some more products, and I already have a wish list of NARS products I want to add to my collection. I hope you enjoy this post, and if there's ever anything you need lovelies then don't be afraid to tweet me or message me in the comments section down below.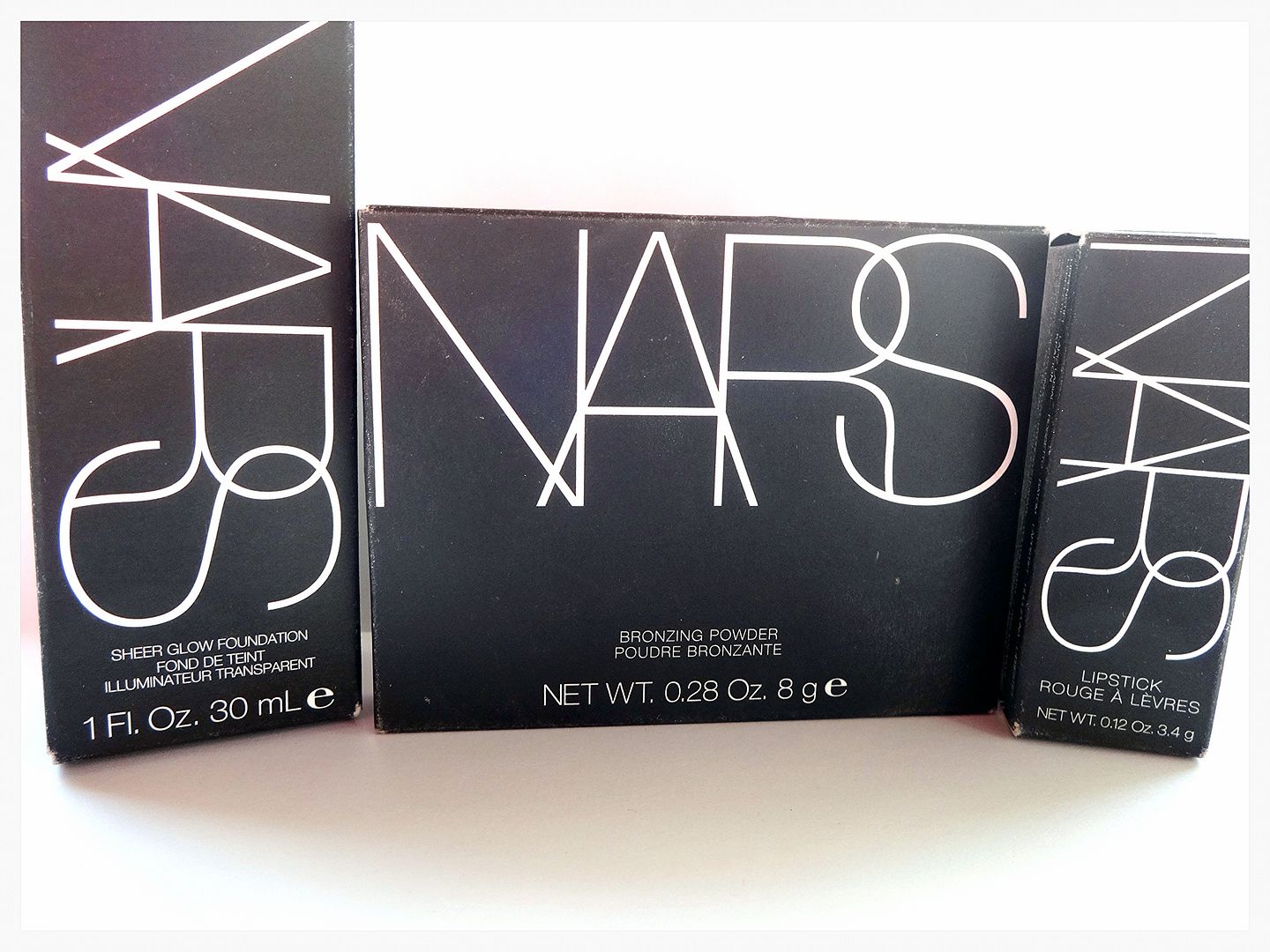 NARS Sheer Glow Foundation
This is actually a re purchase as this foundation made such an impact one me the first time around! It's the perfect medium satin finish foundation that manages to last all day on me.. Sounds perfect right ? It has a gorgeous finish which is flawless, but it doesn't completely take away your skins luminosity. However, it isn't sheer and it's not that glowy! Which makes this foundations name a bit deceiving haha. I really like this as a day and work foundation, but I haven't worn it on a night out yet, so I'm not sure on what it's flash back is like! - I will be doing a full review of this very soon with more detailed pictures and swatches :)
NARS Laguna Bronzer
If this isn't the most talked about Bronzer then I don't know what is haha! It has been coveted in the beauty world for as long as I could remember, and I can't actually believe I have only just got it. I have always used The Soleil Tan De Chanel as well as bronzes from Dior and Benefit. I'm kind of kicking myself now for taking so long to jump on the bandwagon with this, as it's just the most perfect shade of Bronzer ever. The quality and pigment are amazing, and it's super easy to blend out and make look really natural.
NARS Honolulu Honey
After walking around the shopping mall for a few hours I decided I needed a new nude in my collection haha! So I went back to NARS and my boyfriend kindly treated me to this lovely lipstick. I chose Honolulu Honey, as it's a true nude shade with more of a peachy/beige undertone. This lipstick is more suited to warmer complexions, and was actually voted the best nude for medium toned skin. Despite having a light/medium skin tone, I do tan quite often for work.. And with the NARS Laguna, I can definitely make this shade work for me.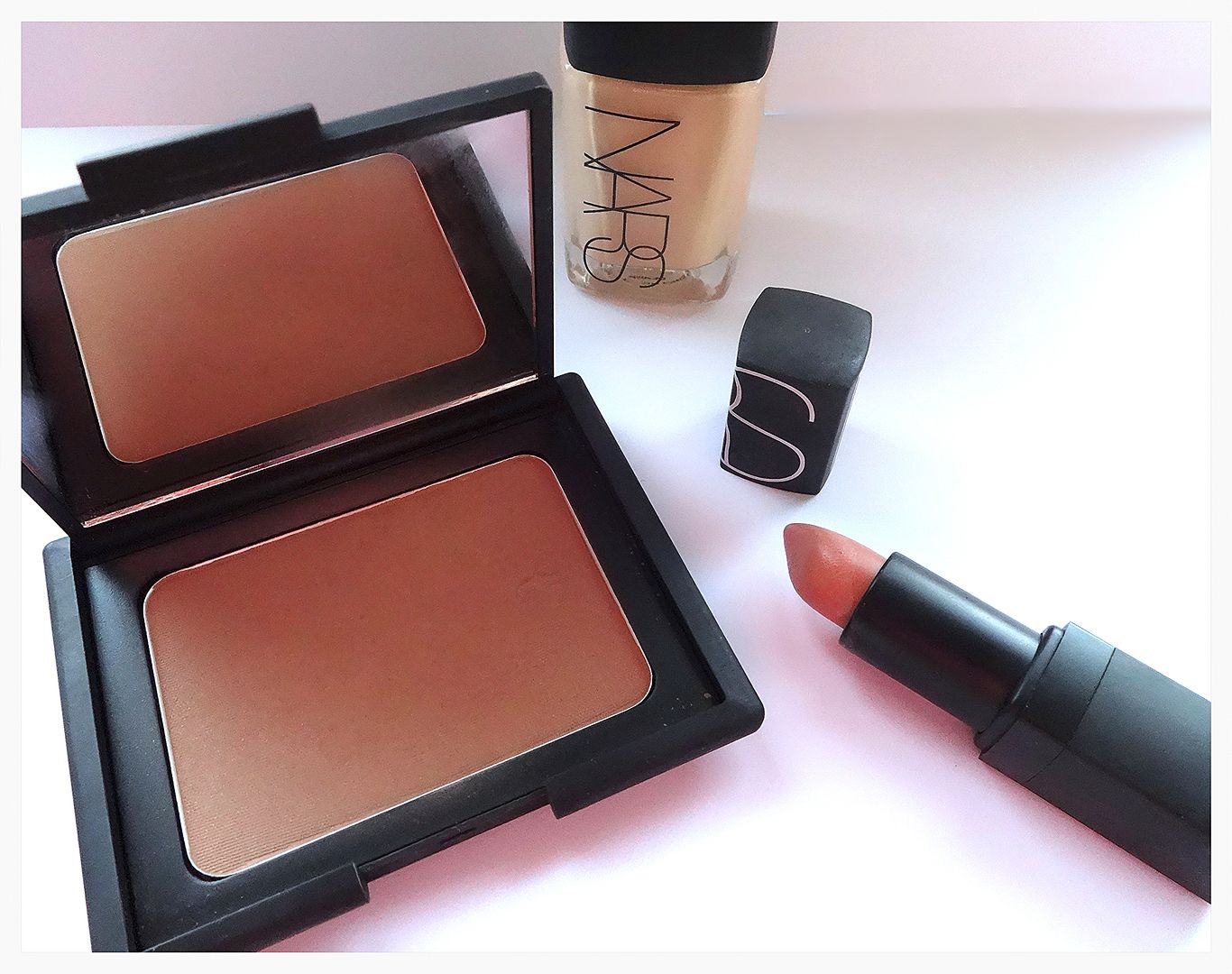 Overall
This is just a little overview of the products I purchased, but I will be doing a full blown review for each of the products featured, with plenty of pictures for you lovelies. I have been loving using my new NARS goodies, and all three have been regular features in my everyday makeup routine. I would really recommend all of these products, as I think the NARS Sheer Glow and Laguna Bronzer could work for most people. However, I would recommend Honolulu Honey for more warmer toned skin, unless you tan or bronze.. then it's definitely a shade that can work with a bit of added warmth on the face. I hope you have enjoyed this post beauties, and I will be back really soon with another post for you!
Take Care