Hi Lovelies!
I hope you have had a great week so far ? I have been feeling quite unwell the past few weeks, so I have decided to go to the doctor's to get some blood tests sorted out. I have so much going on at the moment, and feeling so tired and lethargic all the time is making things so much harder. To be honest I just think I need some sunshine haha! but its better to be safe than sorry I suppose. Despite feeling a little under the weather, I have managed to create a file to keep all of my blog stuff organised! cute organisation is definitely the way forward haha. I'm also in the process of doing the same for my uni work, as I always feel so much happier in myself when I know whats going on with everything. Anyway lovelies! today's post is going to be about a product that I fell in love with a few months ago. I purchased the Clarins Instant Smooth Self Tanning a few months ago, and even though I really enjoyed it.. for some reason it just slipped out of my everyday routine (Perhaps I just got lazy haha). So when I rediscovered this product from my collection it wasn't long before I fell in love with it again. I was actually looking to purchase another primer, and when I realised I had four already I decided to be good (for once) and carry on using one I already had. I hope you enjoy this review lovelies, and as always if you need me for anything then don't forget to leave your questions, thoughts and links in the comments section down below.
About
All the wonderful skin care benefits of our 'best-selling' Instant-Smooth Perfecting Touch, with one extra advantage. The silky, lightweight mousse melts into the skin for quick and easy application. Lines and enlarged pores are instantly smoothed away .The complexion is left looking radiant and later develops a subtle healthy glow. With regular application, the tan intensifies but always with a subtle, natural-looking colour result.
Review - The Good
A perfectly perfected, primed, tanned and cared for complexion ? sounds perfect right! well this is exactly what the Clarins Instant Smooth Self Tanning offers. If you have used Benefit's POREfessional then this is the less drying version, with the added bonus of a little self tan too! - It has been highly recommended by the lovely Vivianna Does Makeup, and I'm also a huge fan. Firstly, it comes packaged in a beautiful luxe glass jar! a touch of luxury is always a nice thing haha. I also love the fragrance, it kind of has a really light a fresh caramel scent if that makes any sense at all (describing scents has never been my strongest point haha) The texture of this product is best described as being beautifully soft and lightweight. It seamlessly covers any enlarged pores and uneven areas to leave your skin feeling like you wish it always would! - It instantly gives your skin a lovely "glow from within" kind of look, and then it continues to develop throughout the day leaving you with a super healthy and lightly bronzed complexion. Moving onto its fantastic priming properties! where do I start ? It is basically the same product as the Clarins Smooth Touch Primer, which is a firm favourite in the blogosphere, as well as winning many awards. I didn't really pay attention to its priming properties when I first started using this in October, but after 5 hours of wearing my make-up yesterday I took a mirror and looked up close to my skin, and couldn't believe my eyes. My make up still appeared perfect, and I couldn't see any uneven areas or enlarged pores! usually towards to 5-6 hour mark I find my make-up starts to look a little tired. However, I can hand on my heart say I genuinely had a shock when I looked in the mirror to see a smooth and radiant looking complexion. If that isn't enough it also has skincare properties, and uses Acacia micro-pearls to trap in moisture which means you shouldn't experience any dryness with this product. This product will also be highly suited to lighter skinned ladies, as the end results are so natural and non scary! I also think this is good enough to even skip foundation on a "good skin day" I'm in love!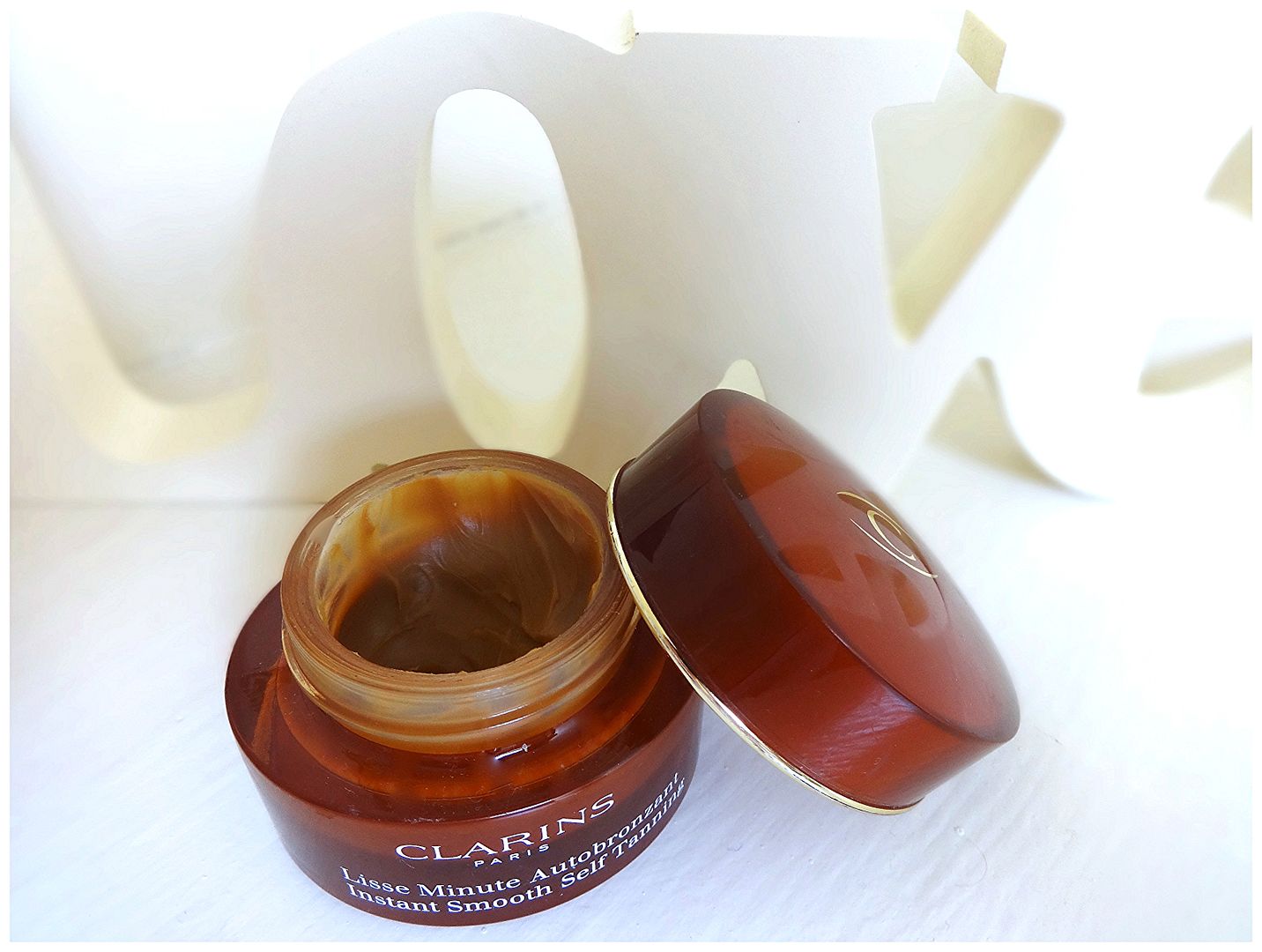 Review - The Bad
There definitely isn't anything bad about this product! but I always try to make a few recommendations, just so my lovely readers know exactly where they stand with a product. Firstly, even though the scent is lovely it might not be to every ones taste, so its always worth checking it out at a counter before purchasing if you know you are a little sensitive to particular fragrances. Secondly, the tan this product gives is quite light, and simply might not be enough for some people. The shade does become deeper if you use it every single day, but I still find the colour to be a more healthy "glow from within" kind of shade opposed to a typical "tan" look.
Overall
If you are looking for a product to improve the overall look of your complexion then this could quite possibly be it. It perfects, primes, moisturises and adds a subtle glow to your skin all in one! don't be put off by the caramel colour, as the end result is truly natural. I would really recommend this product, and for £19.00 I think its quite well priced, as you only need a pea sized amount each time... plus it does so much to help improve the overall look of your skin. I hope you have enjoyed today's post, and I really love hearing from you all.. so don't forget to leave your questions, thoughts and links down below.
PS Lovelies - I have also introduced three simple advertising packages to my blog, which you can check out
here
prices start from £3.00 If you are interested and you can e-mail india504@hotmail for more info and special offers.
Lots of love!