Hi Lovelies!
I hope you are all doing really well ? - Today I have been working at the spa with my lovely spa girls, and I managed to get half a day due to some commitments. I'm actually starting back my uni work soon, and I'm kinda stressing about how I'm going to balance university, blogging, work, working for my dad and also my personal life! I will do it, but I'm a natural worrier.. so sometimes I can work myself up way more than I need to. I have been thinking about what to post this weekend, but after a recent blog comment it suddenly come to me! I haven't done an updated review post on my beloved Chanel Vitalumiere Aqua Foundation since like 2012 when i first started blogging properly. I have had a few requests to do an updated post on this foundation, especially as I spend half my time rambling on about how much I love it and how many bottles I have used haha. I hope this post is informative for you lovelies, and as always if you have any questions then don't forget to leave them in the comments section down below. If you are looking for a quicker and more direct response you can always use my social media icons to get in touch, just under my picture!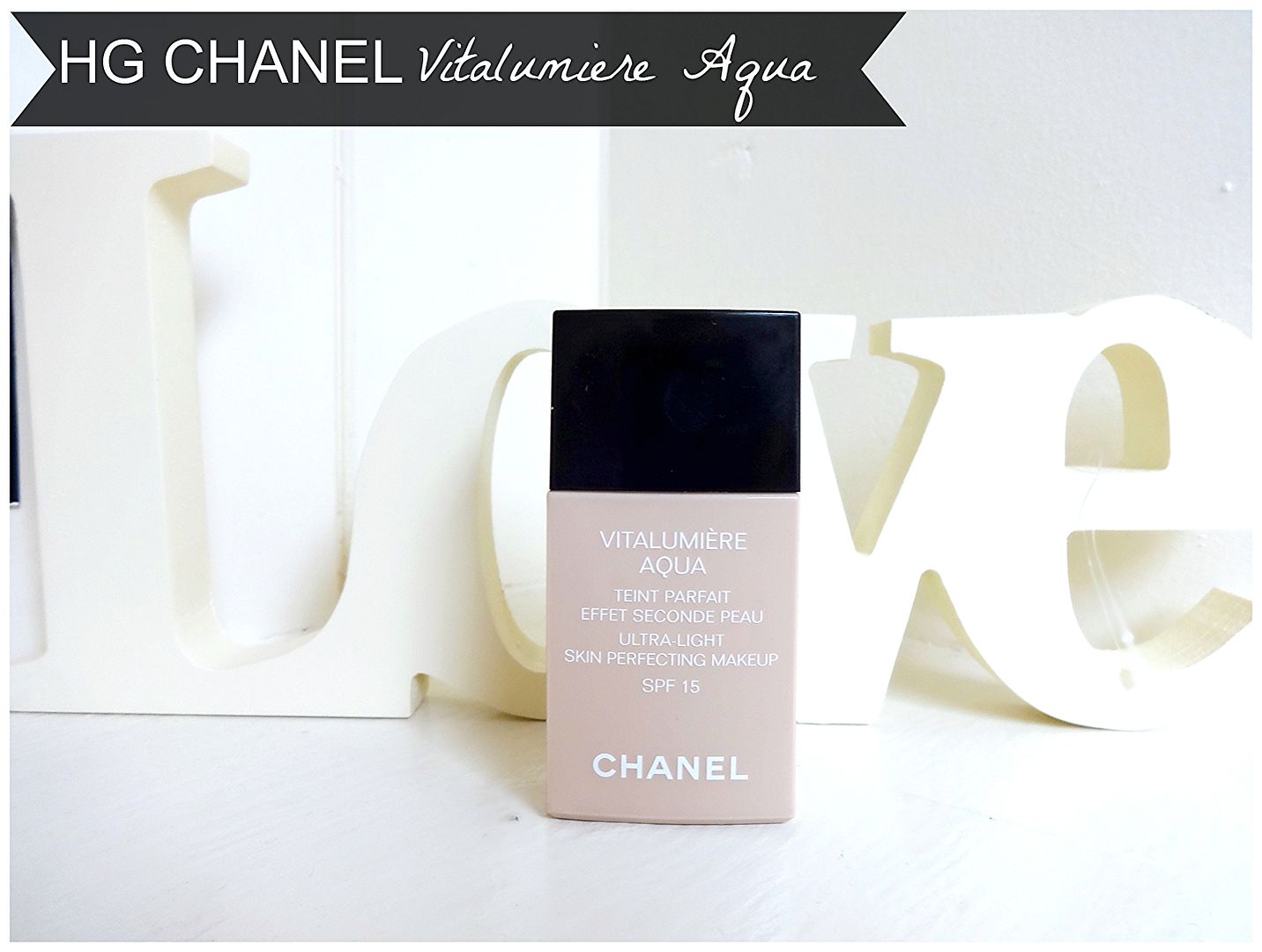 You know that friend or person in your life that you know in and out and have such a great relationship with... well thats me and my Chanel Vitalumiere Aqua Foundation! ( I can't believe I'm comparing this foundation to a friend haha) I am just starting my 8th bottle, and I love it just as much as I did when I first tried it. Don't get me wrong I do go in and out of using this foundation, especially when I find other great foundations like the NARS Sheer Glow for example. However, nothing keeps me coming back for more like this one does! I have decided to try and do a more organised review for this product, as I could ramble on about this foundation and tell you stories about it for days haha.
About the foundation
The Chanel Vitlumiere Aqua foundation is a water based foundation that offers a incomparable second skiing result. It has a semi-matte finish, with an SPF of 15 to help protect from damaging sun rays.
Coverage
This is definitely a "skin perfecting" light coverage foundation, but it still has enough coverage to cover up redness and minor marks. I love this foundation all year round, but in the summer it gives you just the right "breathable" coverage (with the added bonus of a little SPF too!) - I would also say its suitable more the majority of skin types... but perhaps not for majorly oily or majorly dry.
Longevity
For a light weight foundation the longevity is amazing! it lasts a good 6 hours without a powder and that extra bit longer with the help of a setting powder! it doesn't last as long as my NARS Sheer Glow, but the NARS SG is a medium coverage foundation which explains its longer lasting time :)
Scent
Chanel are quite famous for their "fresh floral scent" that they add to a lot of their formulations. I am used to it now, but if you are really sensitive to scents then I would 100% recommend checking it out at a counter first. The good thing is the floral scent vanishes not long after applying the foundation, which is good if you are a little worried about being sensitive to the fragrance.
Shade
I go between B20/B30 and I have included both swatches in the image below. They are both very similar actually, but B20 is a lot lighter than it appears in this swatch until it oxidises, and then it almost turns into B30! - I have found that B30 doesn't really oxidise in comparison to B20 (on my skin anyway) I use B20 in the winter as its a fraction lighter, and then B30 in the summer. The "B" range is the neutral shade range that Chanel offer, which I think is suitable for all undertones as it helps to even out your tone overall. I have added some of my other foundation shades, just in case you are having trouble deciding.
NARS Sheer Glow - Punjab
YSL Le Touche Eclat/ Youth Liberator - B30/40 ( I prefer 30 though, as it was a more Yellow undertone, which helps to cancel out my redness )
L'Oreal True Match - W3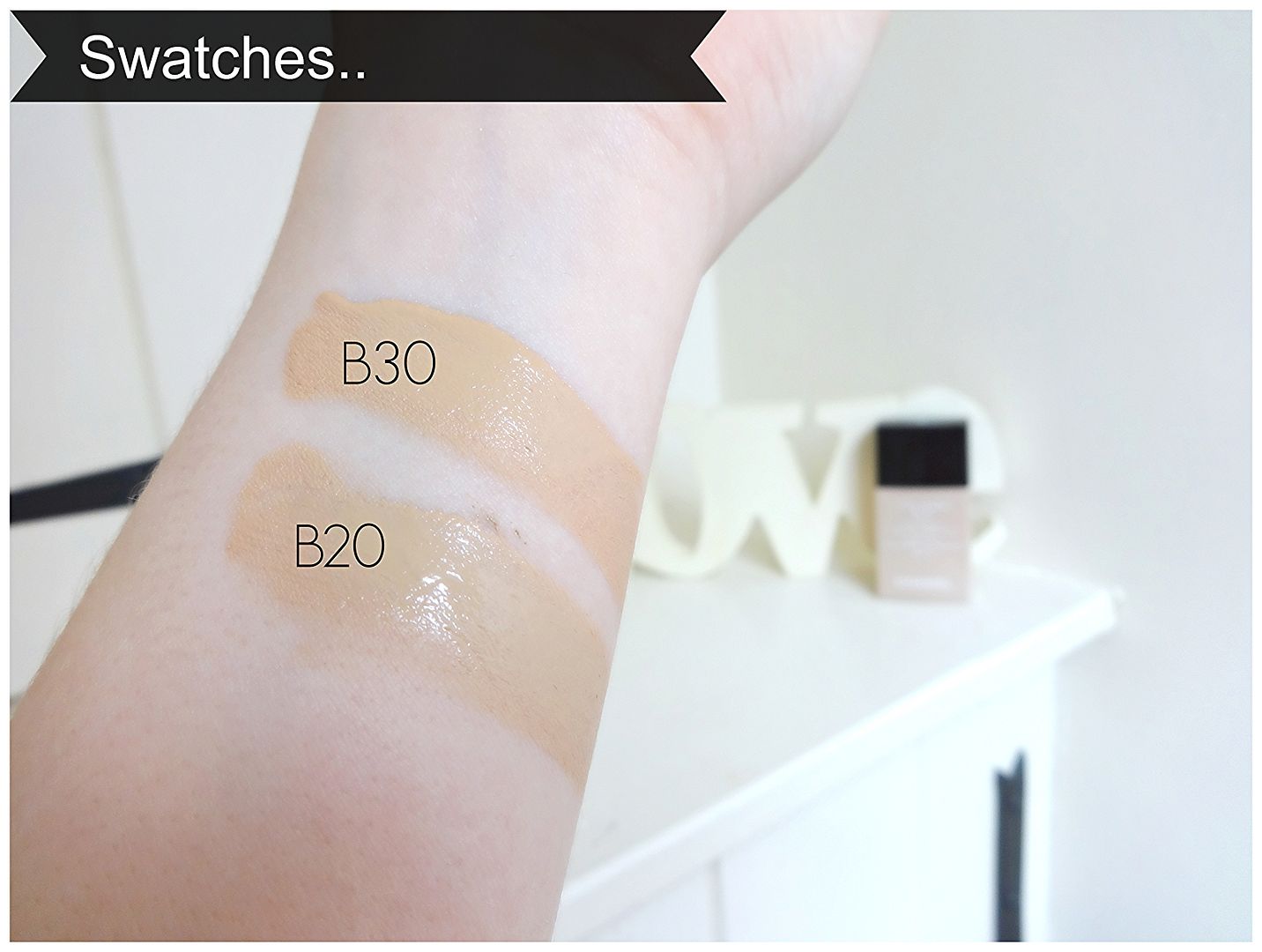 Overall
This is a beautiful foundation! and the only one I have ever found that has offered such a fresh and breathable finish, with the added bonus of good coverage. It literally defines "second skin" in foundation talk, and I think it is suited to a lot of skin types. It is on the lighter side of the coverage scale, but it still covers up redness and minor imperfections with a good 6 hour staying power. If you are sensitive to fragrance then I would recommend you visiting your local counter. Also if you are a fan of the "make up" look then I would probably give this one a miss, and opt for something with a more medium/full coverage.
I hope you have enjoyed this post my lovelies, and I look forward to speaking to you soon! don't forget to leave your thoughts and links in the comments section down below.
PS - A massive welcome to my blog if you are visiting from tonights #bbloggers chat!
Lots of love