Hope you are all doing well! I have been enjoying a couple of days off work, as well as attending some quite exciting meetings and a spot of retail therapy yesterday. I'm pretty excited at the thought of a new property development project, as I am going to be doing a lot of work for it which will give me some amazing work experience. I will definitely keep you lovelies updated, and I'm currently preparing a little haul post for you lovelies to see, so make sure you check back for that. Today's post is going to be about a fabulous new tanning product that I have discovered, and I can assure you it's a little gem haha. The beauty and tanning brand Laurens Way was created by Lauren Goodger who you probably recognise from the Only Way Is Essex (Aka TOWIE) I think Lauren has done so well and used her time in TOWIE as a positive experience to help create a business and future for herself outside of the hit TV show. I'm very supportive of women making their way in the world of business, as I'm also an aspiring businesswoman myself. Not only has Lauren created a beauty and tanning brand, but she has created a brand that has become very successful in a short space of time, which is really inspiring.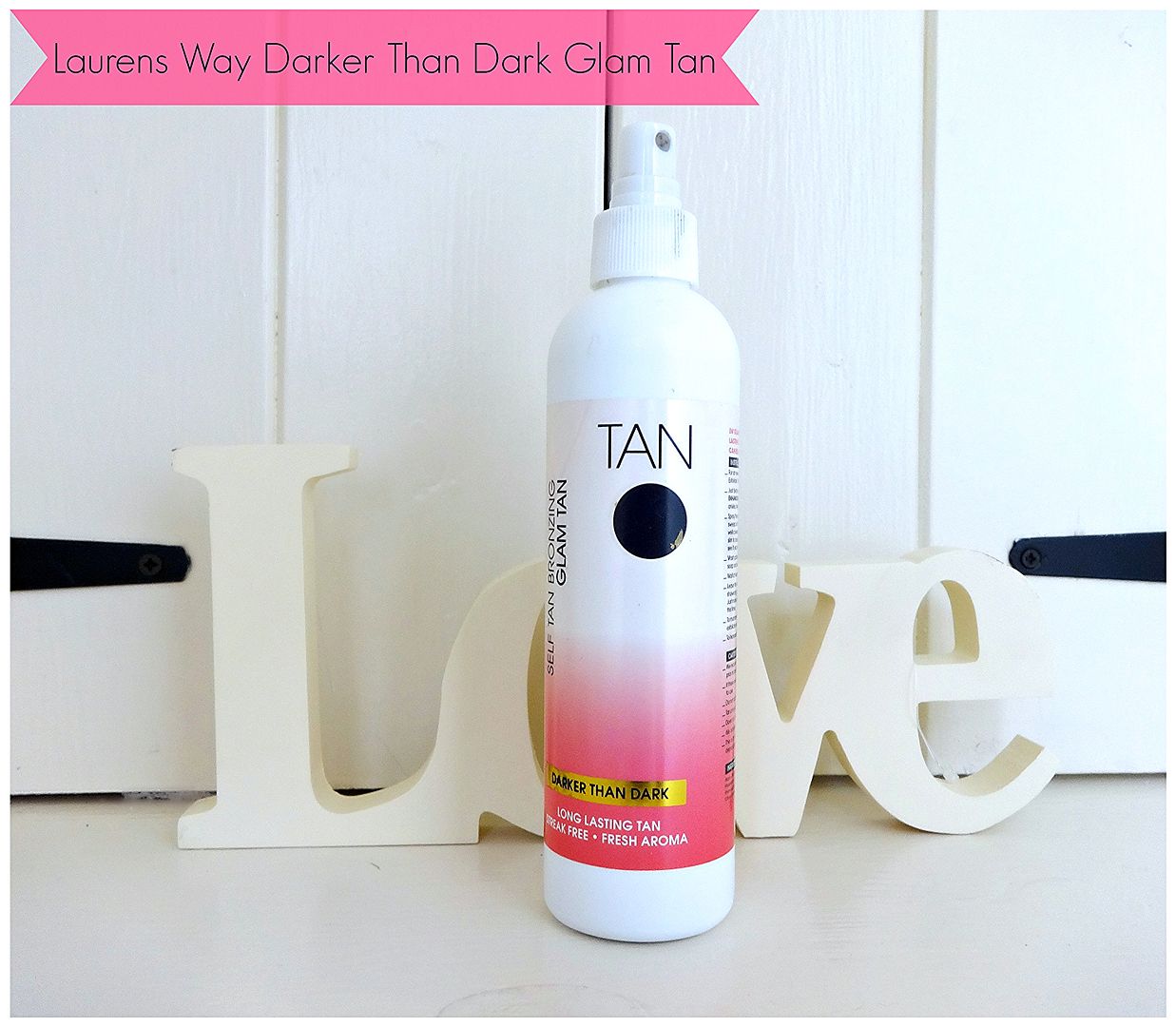 The New Darker Than Dark Glam Tan is a long lasting/quick drying spray formula that can be used on both the face and body. The spray bottle allows for a easy and even application, allowing you to enjoy the benefits of a spray tan from the comfort of your own home. The Darker Than Dark formula provides a gorgeous, deeply bronzed colour in just one application.
I have been using this tan for just over two weeks now, and I am genuinely so impressed. It has completely kicked my Vita Liberata Tan to the curb, and has been my tan of choice since first using it. I tan around twice a week, and top up my face around three times a week, and this tan has seriously ticked all the boxes. The colour it gives is quite deep and reminds me of a beautiful Caribbean holiday (could totally do with one about now haha)
I have previously used brands including, Xen-Tan, St Tropez, Vita Liberata, NIP+FAB and few more, and the LW Darker Than Dark Glam Tan definitely rivals if not betters them in my opinion. It does give quite a deep bronze colour, as you can see from the swatches below. However, because it applies so evenly it does look a lot more natural and wearable than you might think. I also love the fact that it doesn't smell at all! my boyfriend hasn't complained once about this time (and that's a first haha) another great thing about this tan is that it has a great guide colour, which helps to stop any cheeky little tanning mistakes.
The only disadvantage is the packaging, as the logo and writing on the bottle easily rubs off. Whilst testing this tan out, I was actually travelling a lot between my boyfriends house and my house, so when I was able to get the time to take pictures the bottle looked a little well loved haha! However, I honestly wouldn't let this get in the way of buying the tan again, especially for just under £20.00 its a bargain in comparison to some Vita Liberata and Xen Tan. If your a fan of the spray tan effect which I am, then you will love this tan as it really does give you a deep, even and smooth looking tan.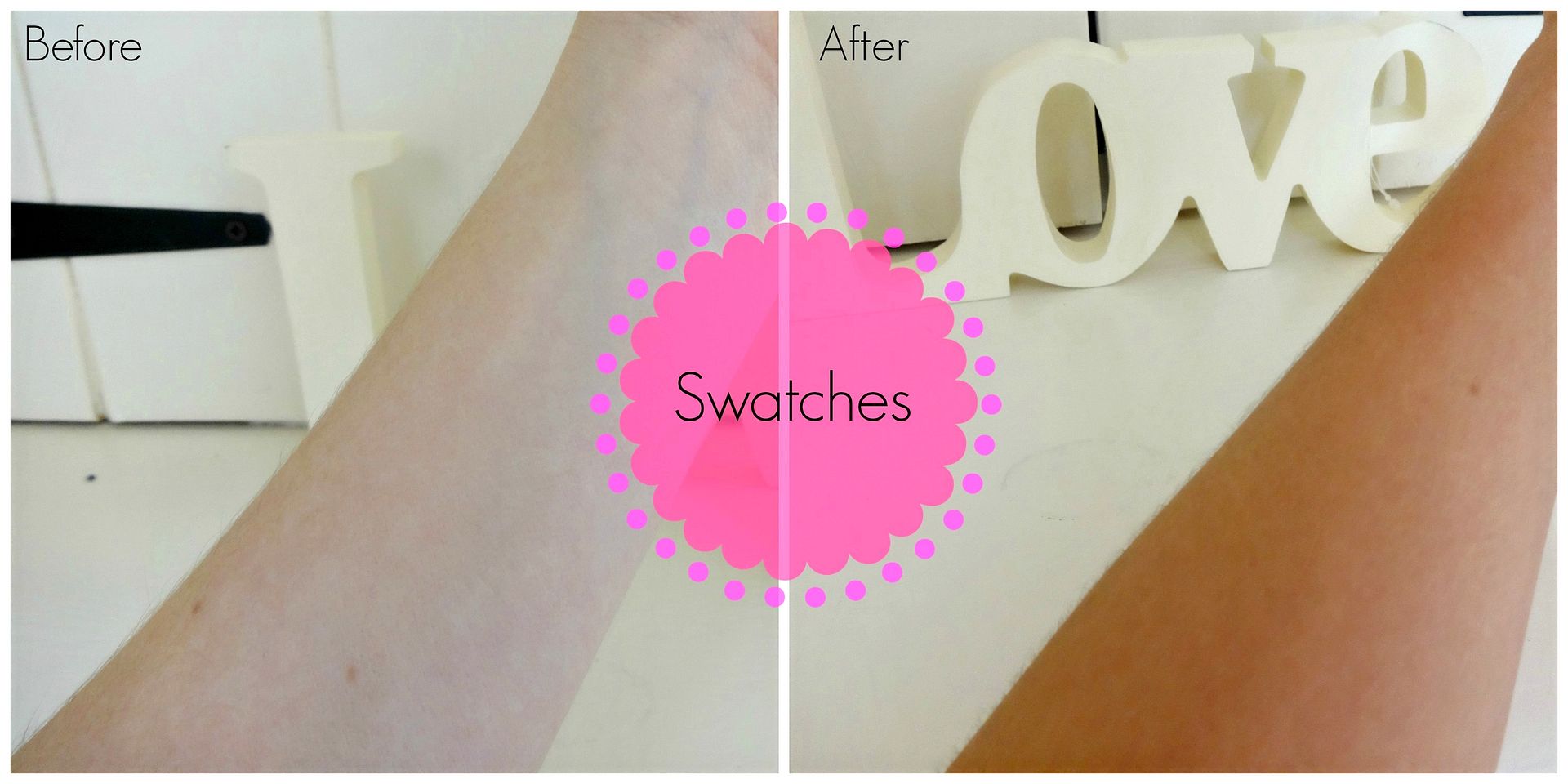 Overall
After trying out this tan it has definitely become my tan of choice, and the fact I can tan without my boyfriend moaning at me is a huge bonus haha. It offers the same high quality results that you would associate with more expensive tanning products from Vita Liberata and Xen-Tan for around £8-10 cheaper. I would recommend this more for people who have had some practise with tanning and the techniques to achieve the best results. If you are a little unsure with tanning then Laurens Way also has some other alternatives that will offer a more subtle colour.
I hope you have enjoyed this post beauties! and I would love to hear your thoughts about this tan! - You can also check out the LW website and tan here