Hope you are all doing really well and are having a good weekend so far? Despite going through a lot with my health at the moment I was super pleased that I got a distinction on a recent uni assignment, so that has really picked up my mood. I also wanted to say a huge thank you to all my lovely blogger friends, who have sent me lovely supportive tweets and messages. I am going to pick up a cheeky Chinese tonight, as a little weekend treat to myself and my boyfriend. We both have a pretty busy week ahead, so I'm looking forward to chilling out tonight and having a good old munch. I have been meaning to write about my little Estee Lauder splurge for a little while now, and after trying the products out for a little while I thought it was about time I did an "initial thoughts" kind of post for you lovelies. If you want any in-depth reviews on any of the products in this post, then just leave a comment down below and I will make sure I get one written up for you lovelies. I went shopping with my boyfriend like two weeks ago now I think, and ended up picking up some beauty goodies. I did tweet about making an online order, but for once I decided to be good and go to the counter before buying. I always recommend checking products out in person, but as I live 45 minutes from my nearest Debenhams/John Lewis I have become really good at make up shopping on line, especially with picking the right shades! Don't be naughty like me though haha, as its always best to go to the counter, as some products you might realise are not right for you... and you can save a whole lot of money by doing so. Anyway, my lovelies! I hope you enjoy today's post and don't forget to leave your thoughts, links and questions in the comments section down below. You can also contact me via my Social Media Icons just to the right hand side, as I am always here if you need a little chat or some help and advice :)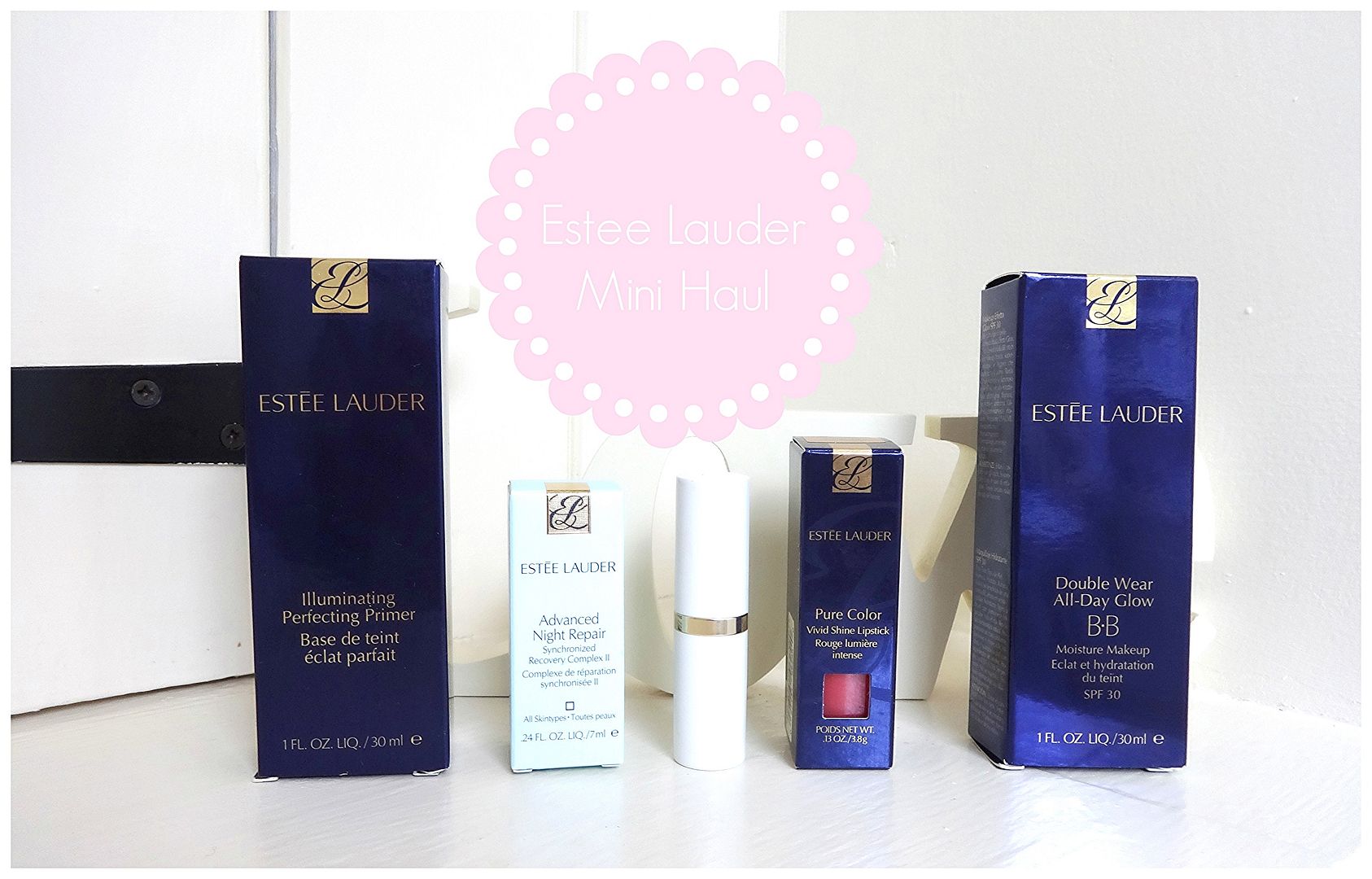 Estee Lauder Illuminating Perfecting Primer
I have never been able to make my mind up with Primer's as I go in and out of stages of thinking they are a "must have" then sometimes I can get a little lazy and just fall out of habit of using one, and then sometimes I just feel like I don't need one to make my makeup stay around (I sound confused haha) However, after falling in love with the Clarins Smooth Touch Self Tanning Primer I decided I wanted to look out for a new primer that was a tad more on the brightening side. I haven't been feeling too good lately, and I feel as if my skin has gone a little bit dull due to feeling un well and being stressed. So! after doing a bit of research I picked up the Estee Lauder Illuminating Perfecting Primer. Firstly, I must say this primer does do a very good job of adding a glow underneath your foundation, and after observing I have found it definitely helps to keep my make up even throughout the day. However, I can't fully comment on if it keeps my make up on longer, as I only tend to keep my make-up on for 6-8 hours which most foundations are supposed to last anyway. The main reason I brought this was to smooth over any unevenness and pores, as well as brightening up my complexion and as far as those reasons go I would say that the EL Illuminating Primer has done a good job so far!
Estee Lauder Advanced Night Repair II
Is it just me or do Estee Lauder products have really long names haha ? I have used Estee Lauder ANR ll before, and I'm actually going to get a big bottle for my birthday! I have been trying to buy a big size for ages, but every time I shop at Estee Lauder I always seem to get one of these deluxe samples that last me so long! so I never really see the point in buying a big one haha! but my boyfriend is going to treat me for my birthday, so that I won't run out of this magic stuff :) Anyway, this is just a miracle in a bottle! every time I use it I wake up with "happy" looking skin the only other product which gives me the same kind of feeling is the Origins Drink Up Intensive Overnight Mask! The ANR ll is used under your moisturiser, and it sinks in within seconds. I feel like this is the product that really gives me the best results in terms of waking up to see an even, smooth and brighter looking face.
Estee Lauder Lip Conditioner
I was super pleased when the Sales Assistant gave me this amazing Estee Lauder Lip Conditioner to try! I told her I wanted to purchase the lipstick (I got in the picture) but was worried because I thought it would apply uneven on my dry/chapped lips due to its hint of sparkle. She was very kind and gave me this product to apply under the lipstick and it works a treat!
Pure Color Vivid Shine Lipstick #Pink Voltage
I just happened to be swatching some lipsticks whilst waiting for the Sales Assistant to finish with another customer when I came across Pink Voltage a beautiful summery pink with a beautiful sparkle! I just had to buy it, and I'm so glad I did. I must admit it is a tiny and i mean tiny bit gritty, but seriously it just looks so beautiful swatched and on the lips that I was prepared to put up with a bit of grit. I think as long as you have a good lip conditioner under this product you will be fine. I must admit I'm also very tempted to pick up some of the other shades, as they are soo beautiful to look at, and of course to wear.
Estee Lauder Double Wear All Day Glow BB
This was definitely the product I was most excited about purchasing, as I had high expectations for this product. I have tried so many BB's from high end to high street, and they haven't offered anything that special at all. When I heard the famous words "Double Wear" combined with BB I instantly hoped that Estee Lauder had created the BB all us beauty lovers have been dreaming of. I think with a BB cream you fully expect the "light coverage" part, but I have found many BB's go very patchy after a short amount of time, and then totally disappear! - Anyway, the first thing I noticed when initially trying this product was how thick it was! (but it does spread out nicely) saying that I have never tried anything from the Double wear range.. so I suppose that was to be expected. I am really liking it so far and I would definitely say its the right product to try if you are still eager to find the perfect BB! it seems to offer a lot more than the others I tried, and of course you get the added skin care benefit, light to medium coverage a dewy finish and even some SPF15 chucked in for good measure. I was matched to shade 2 and even though it looks quite dark, it blends out to be a lot more natural looking. I think Shade 2 will be suitable for most light/medium skin tones. I have worn this to work a few times and so far so good, but I will definitely be putting up a full review of this product in the next two weeks when I have formed more of an opinion.
Overall
I'm super happy with the products I purchased from Estee Lauder, and I will definitely be back with more in-depth reviews on each product. I haven't had much chance to give these little beauties a test drive as I haven't been feeling too well, but I'm pretty excited about using them more over the next few weeks. I hope you have enjoyed today's post lovelies, and I would love to hear your thoughts about the products mentioned in todays post :)
PS - A huge welcome if you are visiting from tonight's #bbloggers chat!