Hi Lovelies!
Hope you are all doing really well ? Today's post is going to be slightly more on the chatty side, as I recently attended a secret event held by the very talented Cardiff Urban Decay girls. I thought it would be a good idea to tell you a little more about the event and what we got up to. It's no secret that sometimes I can be quite shy! I think that's why me and Youtube never really hit it off haha. I have always loved writing, and blogging has just been such an amazing way to let out my creativity and love for beauty and lifestyle. Anyway, when Urban Decay messaged me about a Secret event they were holding I knew it would be a great way to get more involved with the bloggers in my area. I only managed to take a few pictures (not great quality) as the lighting wasn't very good. I hope you enjoy this post lovelies, and I would love to hear from you in the comments section down below. You can also contact me via my Social Media Icons just to the right hand side, if you need to get hold of me a little bit quicker :)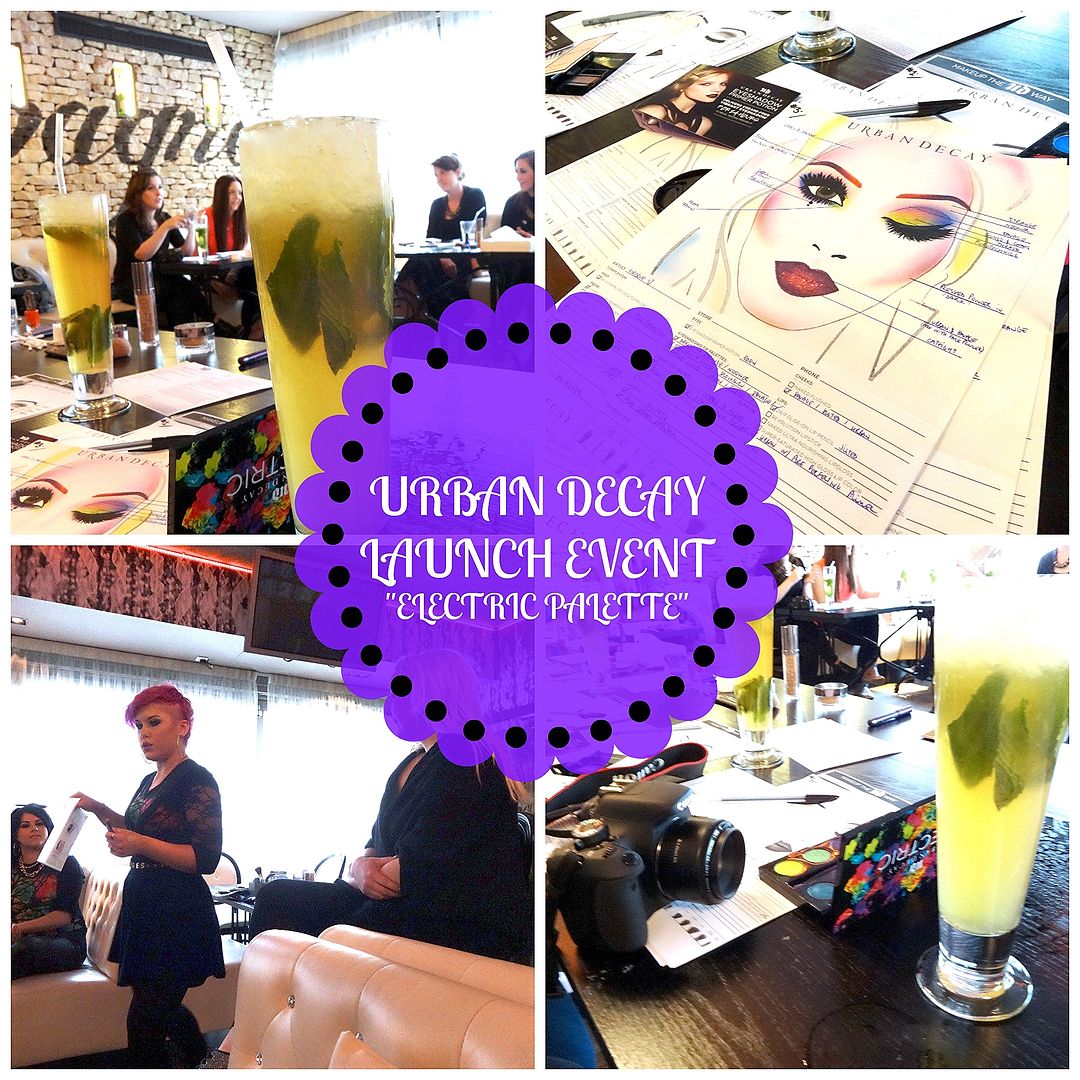 The Event
I arranged to meet up with the lovely Georgina from
(Makeup Pixi3)
before the event, we have always followed each other..but recently we have been messaging a lot more, and it was lovely to finally meet her. We decided to go for a Costa first ( who doesn't love a Costa haha ) and we both opted for the Mango and Passion Fruit Cooler, which was delicious. We chatted for ages, and it was so nice to get to know each other a little more before attending the event, especially as I was quite nervous about it. We then walked over to Tiger Tiger where the event was being held and sat down with our lovely and very refreshing Virgin Mojito's. The very talented Haddie from the UD Cardiff team showed us how to create the beautiful (and very daring) look in the picture chart above using the NEW Electric pure pigment palette, and it was great seeing the look progress throughout the afternoon. I also got to meet the lovely girls behind
CSI beautyblog
at the end of the event, so overall it was a lovely afternoon. After the event me and Georgina headed over to Debenhams to spend our gift card and I will be sharing my purchases very soon! - A huge thank you to the super fun and talented girls that made this all happen for us lucky bloggers and beauty lovers!
The Electric Palette
Just WOW. I must admit I was a little scared by this palette at first, but after the girls explained how versatile it was I definitely became more interested in it. The palette is actually a "pure pigment" palette, so it has so much more versatility than your normal eyeshadow palette. The girls from UD taught us how to make the shade into bright lip colours, as well as telling us about how they can also be used as cheek colours! ( and hair colours if you want to take it that little bit further haha ) I didn't end up buying the palette, as I'm not sure if its something I would get loads of use out of. However, when the sun decides to start shining again, and I'm feeling more adventurous I'm sure I will pop it in my online shopping basket haha. You can purchase the
Electric Palette
for £38.00 at Debenhams, and I would totally recommend it if you love experimenting with colour, plus it could even work out as a new lip colour palette as well by just mixing it with your lip balm or a primer.
Overall, it was such a lovely day and it was great to meet some lovely bloggers, and of course the UD Cardiff girls. I can't wait to get involved in some more events! let me know if you like these kinds of post lovelies, and I would love to hear your thoughts on this stunning palette down below :)
Lots of Love