Hope you are all doing really well? (add personal) So today I am back with another beautiful NEOM candle to celebrate the 1st birthday of their beautiful de-stress blend "Enchantment". I remember when I first purchased from NEOM and I couldn't get over the fabulous customer service! I actually have the post here if you would like to check it out. I have been purchasing from NEOM ever since, and some of their lovely gift sets have made fabulous birthday and Christmas presents for my close family and friends. I have grown up in the Welsh countryside and even now walking through a bluebell wood still has a really magical feel to it. So, when I heard about NEOM's celebrations for their beautiful "Enchantment" blend I was really excited to get involved. If you are new to NEOM then they are a luxury home and lifestyle brand, who take great pride in creating the most incredibly powerful, organic range of lxury bath, body and home fragrance products. NEOM create beautiful blends not only to make your personal space smell fantastic, but NEOM carefully master their products to be therapeutic treatments to make you feel more relaxed, energised or even just a whole lot happier. NEOM are regularly featured in the likes of Vogue, Elle, and Glamour just to name a few. The brand also has a celebrity following which includes, Kylie, Sienna, Kate Moss and Gwyneth Paltrow. My first order with NEOM has definitely cemented my loyalty to the brand and the fact that they let me use my order points from my first purchase to take some money off my second order was just amazing. I just popped onto my account and it says

Your current balance is

246 NEOM Points

(

£2.46

) which can be redeemed against your next order.

Most points systems require you to build up 100's of points before you can use them, but NEOM make your customer experience truly luxurious just like their brand. I hope you enjoy today's post lovelies, and if you have any questions then don't hesitate to get in contact via my Social Media.
The Review
Enchantment is a magical blend of Bluebell, Guaiacwood and Rose. NEOM describe the scent as "Breathtaking bluebell notes and mood-boosting rose transport you to a place of intense calmness. Blended with guaiacwood - an oil derived from the palo santo tree, long used in meditation for its de-stressing properties - and delicate rose, this treatment will allow you to unwind and focus. NEOM originally released Enchantment as a limited edition fragrance, but due to its popularity they made the decision to add it to their permanent line! NEOM candles are made using only vegetable wax and pure essential oils rather than using synthetic fragrances. The high amount of essential oils used within each candle mean that they work as powerful holistic treatments, as well as making your personal space smell heavenly. There is a candle for every mood, and Enchantment is the perfect blend to inspire new days, full of hope and good will.
I have been burning "Enchantment" for around a week and have found it to be a very "uplifting" scent, which is perfect for Spring. I'm sure you are probably aware that I am starting a new job soon, and I have found this scent to be very positive, but at the same time quietly calming. I'm quite a worrier, so it has been nice to burn this candle when I have been feeling a little anxious about things. In terms of its notes I find that Enchantment is delicately Floral thanks to the addition of Bluebell and Rose, with a sweetness that I believe comes from the Guaiacwood oil. I like the fact that its a mixture off floral and sweet, as I'm not always too fussed on strong floral scents. I would even go as far to say as this could possibly be my favourite NEOM candle yet. I'm a huge fan of the LOVE candle which I reviewed here and I'm also a huge fan of their super relaxing Tranquilly range. However, Enchantment has got a certain magical essence about it, that makes you feel a real sense of inner calm. I love going on countryside walks with my family, and NEOM have done amazingly to create a candle that mimics the feeling of a fresh and floral woodland walk.
The packaging for the celebration version of the "Enchantment" Home Candle is gorgeous, and its White exterior gives it a real fresh feeling. I also like the wooden candle cap, as I feel that it adds a touch of luxury to overall look of the packaging. The candle retails at £42.00 which is expensive, but it does have an impressive burn time of 50 hours which is 30% more than most other premium candles offer. However, with the 25% discount code you will be able to get this candle for around £31.50. You will also get points for your purchase, which you will be able to use on your next order which is a huge bonus. NEOM are also donating £1 per candle to the "Woodland Trust" which I think is nice and very fitting with the "Bluebell" theme of their candle.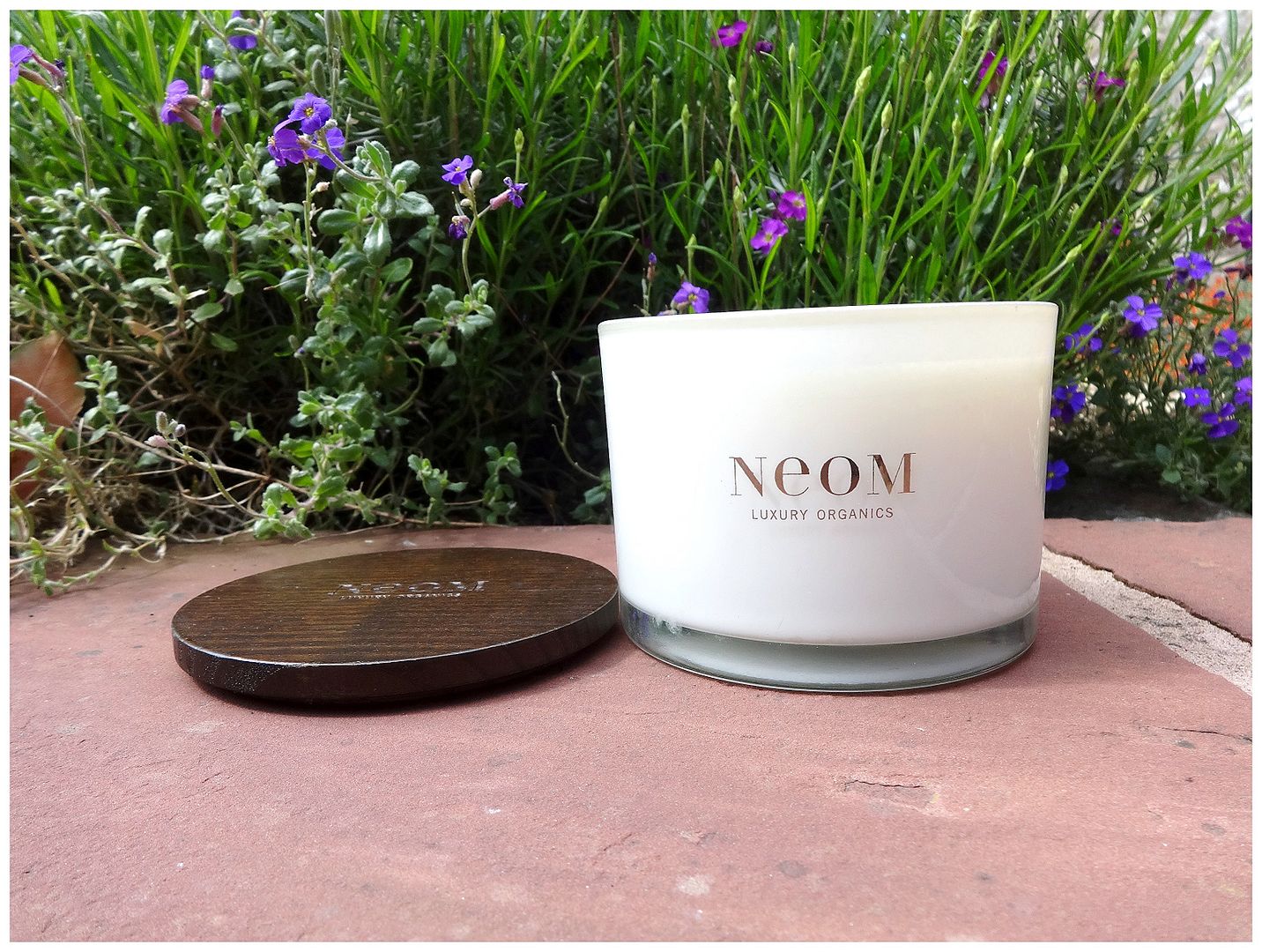 Share your Blubell images with NEOM on twiter by using #BluebellWatch
Visit the exclusive BLOGGER 25% off sale (Valid on NEOMS De-stress blends)
NEOM are supporting National Walk to Work Week, an initative which highlights new research showing how the daily commute is a major stressor in our lives.
Friday 16th May - Sunday 18th May #NeomBloggerDiscount
I really hope you have enjoyed today's post lovelies! The weather in the UK is beautiful today, so I hope you lovelies get a chance to enjoy it too! Don't forget you can get the candle mentioned in today's post for around £10.00 cheaper if you use the link above :)