Hope you are all enjoying your weekend so far ? I have had such a lovely day today at Longleat Safari Park with my boyfriend Daniel. I have been so busy the past two weeks with starting my new operations module at uni and of course adjusting to my new job. I'm literally learning so much every day that when I'm getting home I'm so exhausted. However, I'm absolutely loving the job and I have already been involved in some exciting projects. I'm really excited about the future and I'm planning on doing a post related to my experience with interviews and actually getting the job as a "digital media assistant" It's pretty much my dream job right now and I think its such an exciting role! I would love to know if you would like to see a post about my experience with getting the job, so don't be shy to ask me about it. I also just wanted to say that I'm sorry for not posting as much recently, but I have been so busy trying to adjust to everything that's new in my life at the moment. However, I know how understanding all my lovely followers are and I'm trying to write up my posts in bulk as well as taking my pictures at the same time to make sure I have my content ready to upload for you lovelies. I'm hoping to get my blogging back to normal by the start of July and I have a pretty exciting post coming your way, so keep an eye out. I hope you enjoy today's post and I would love to hear from you in the comments section down below. Don't forget you can always contact me via my Social Media if you every need to speak to me about anything!
I'm sure your all aware of my love for NEOM Organics! I have actually purchased some lovely products that will feature in quite an exciting post, which I plan to post in the next few weeks. Real Luxury (£35.00) is a relaxingly fragrant blend of Lavender Jasmine and Brazilian Rosewood. The beautiful glass bottle adds to the "Real Luxury" that this Reed Diffuser offers to your personal space.The natural reed sticks absorb the pure essential oils and gradually diffuse the fragrance throughout your home or personal space. Even though I'm a huge candle fan I like the fact that the Reed Diffuser is a lot more versatile as you can leave it in your bathroom, hallways, living rooms etc without having to keep a close eye on a flame. I have also been putting it in my walk in wardrobe area which is great as "Real Luxury" is an all round fabulous fragrance and it definitely has a sophisticated and calming influence ( which is always a good thing when your running around trying to get ready haha)I have also been pretty impressed with how long the diffuser has been lasting! I had this preconception that diffusers vanished within a week! but this has been going for two weeks strong and it's still over half full.I have only tried a few Reed Diffuser's previously, but I have been so impressed with "Real Luxury" that I'm already looking to purchase a few other fragrances to add to my home fragrance collection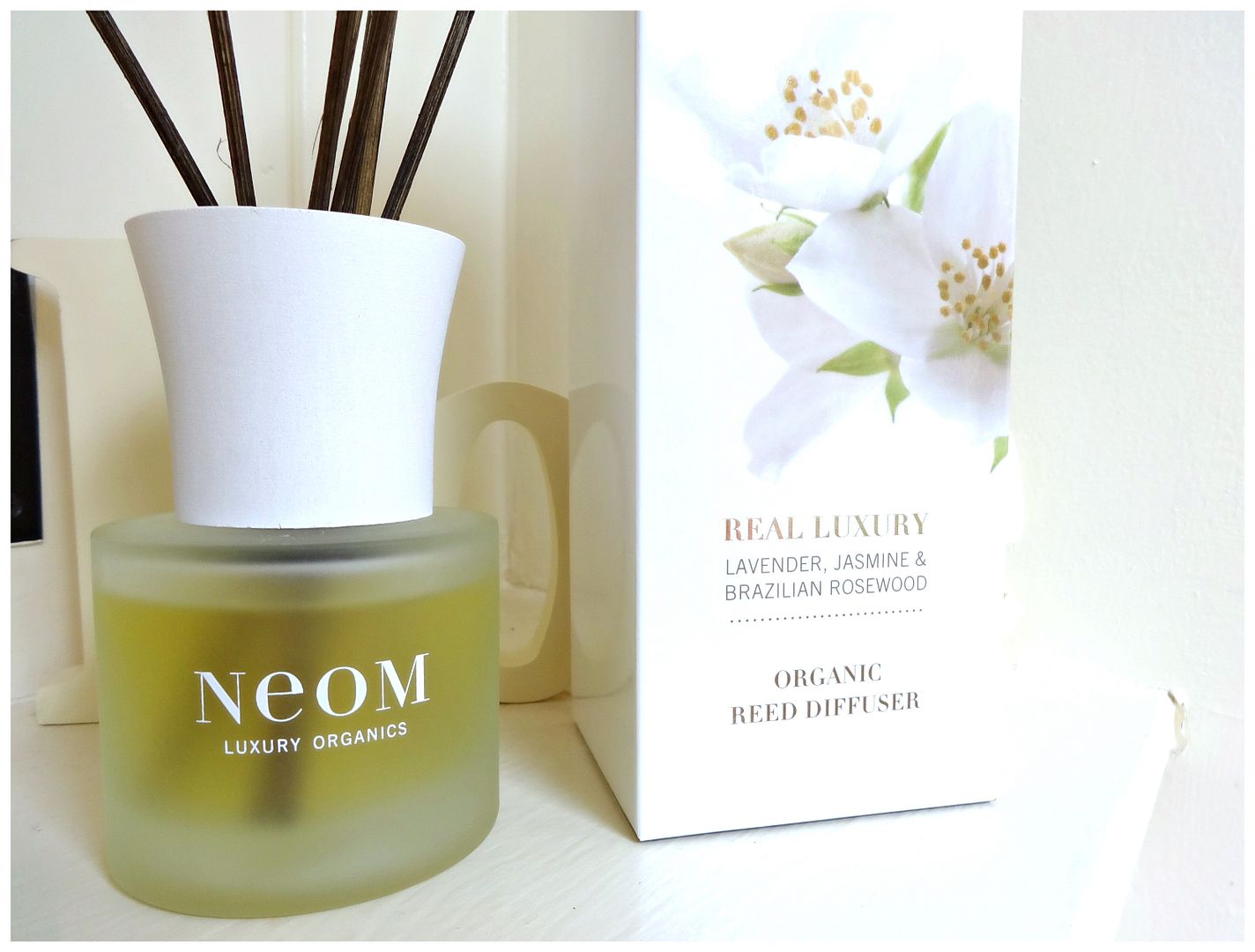 Overall
I have been really impressed with the Real Luxury Organic Reed
Diffuser and it has definitely changed my outlook on Reed Diffuser's in general. I have found Real Luxury to be one of the most sophisticated and versatile fragrances that I have tried from
NEOM so far. It's a fantastic "back drop"
Fragrance, which makes it a perfect addition to your personal space. At £35.00 it's not a budget buy, but instead a real luxury treat. However, if you are looking to invest in some home and lifestyle products then this product is 100% worth the splurge. The only thing I have to say about this product is even though its fantastic.. I have missed the gentle flicker of a candle and would probably re-purchase this in candle form. However, I have been more than impressed by the lasting time of this product so far and it's still going strong. I think it would also make a great gift and have already lined one up for one of my good friends!
I hope you have enjoyed today's post and I will be back soon!