Hope you are all doing really well ? Around two weeks ago I went on a bit of a shopping spree and ended up spending a ridiculous amount of money on beauty and skincare (I convinced myself I needed it haha) I also got some techie stuff from Apple, but I also picked up two of a specific product, which you might have noticed on my Instagram! I have been meaning to treat you lovelies for a little while now, but between one thing and another it has been so hard trying to get myself together. Anyway! enough about me and more about you lovelies. I decided to purchase this product from Origins for the lucky winner, as its something pretty new and exciting. I decided to test it out before putting it up for giveaway, as I wanted to make sure it was something I loved and felt that the winner would love too. It somehow manages to be refreshing, cleansing, exfoliating and gentle all in one! Woohoo perfect cleanser alert? I will leave that for the lucky winner to decide though haha. Anyway, I hope you enjoy tonight's post lovelies and you can find all the boring, but important details down below. I have also put in a mini review, so you can get an idea about the product to see if you think its something you would like to win. As always, feel free to contact me via my social media and don't forget to leave your comments down below as it will earn you entry points for the giveaway! Good Luck.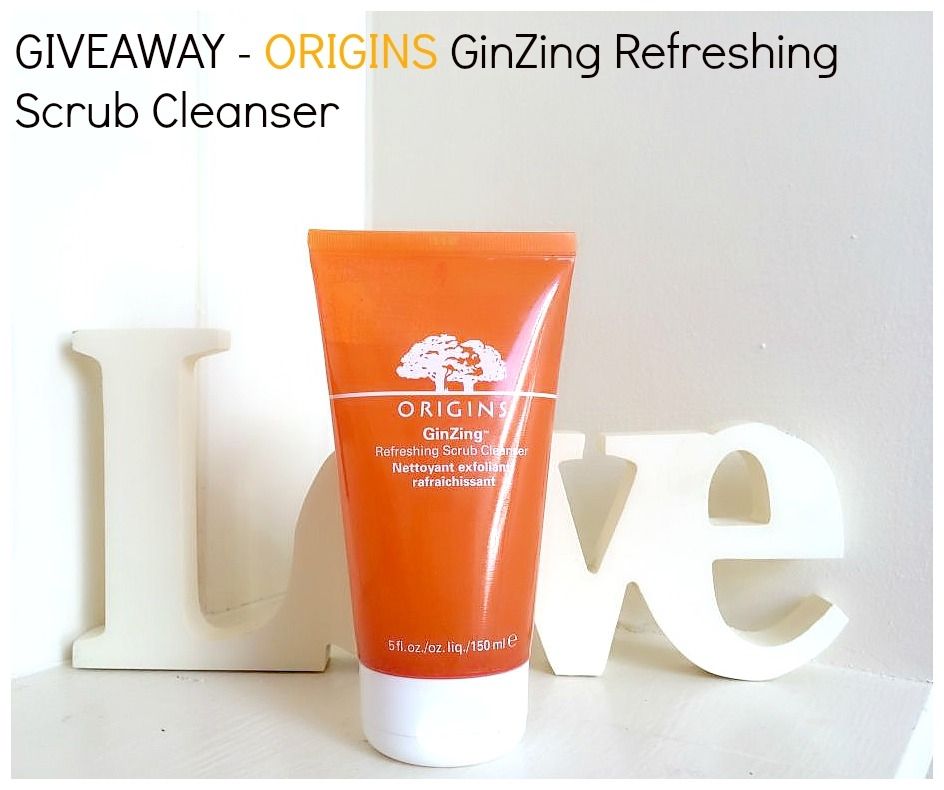 Review Origins Ginzing Scrub
The Origins Refreshing Ginzing Scrub & Cleanser is a 2 in 1 scrubby cleanser which is fortified with Origins miracle workers "Panax Ginseng and Caffeine" The gentle scrub uses jojoba and C
arnauba
Wax to exfoliate and unclog pores. Skin looks smoother, brighter and feels perfectly refreshed. The addition of a 100% natural blend of Grapefruit, Lemon and Spearmint helps to perk you up so you're ready to face the day.
Since becoming a "Cleansing Balm" kind of girl and falling madly in love with all things Emma Hardie (mainly the cleansing balm) I never really thought I had room in my life for a 2-in-1 cleanser/exfoliator. However, I decided to take the plunge and It's probably one of the best skincare products I have purchased this year. Origins have the best citrus fragrance and I love the fact it doesn't smell fake or too strong. It honestly smells like freshly squeezed Orange juice, which is probably something to do with the range of natural essential oils within this product. I absolutely love the way it gently lathers and how the exfoliating beads are really soft and inoffensive. I am normally really easy going with skincare products, but I find it so hard to find an exfoliator I can actually get along with. If you are the same as me.. then don't fear because this Origins cleanser/scrub is the perfect way to achieve the highly coveted "fresh faced" look.
Rules
- You Must follow via GFC & Bloglovin to have a valid entry
- Please use the RAFFLECOPTER widget to enter
- Daily comments on this post and Tweets will earn you more entries
- International Giveaway - Please check your country accepts skincare from the UK before entering!
Good luck lovelies! and don't hesitate to get in contact if you have any questions :)
Take Care