Long time no speak! I have been moving house and for me that usually consists of having no Internet for quite a while! My dad is always busy developing new properties and I'm lucky enough to get to live in some of them! But it definitely doesn't come without its stresses, so it's nice to finally say I'm back!! It's actually been quite nice having some time away from the Internet and I feel refreshed and ready to get back into blogging. I have had some pretty exciting news regarding my blog, but I'm confirming a few things before I share the good news in the new year! Before I go off on a ramble I will introduce today's post! I have lived in South Wales all my life and have been lucky enough to live amongst the beautiful Monmouthshire countryside. I wanted to do a gift guide with a difference and have been collaborating with some fantastic welsh brands to create my South Wales Christmas Gift Guide! I hope you enjoy this post, as it's something a little different to most gift guides and I love to support brands that I believe in and hopefully you will too! Today, I will be showing you some beautiful gifts from the brand Honey Bee Beautiful and I would love to hear your thoughts in the comments section down below! you are also more than welcome to use my social media to get in touch :)
About Honey Bee Beautiful
Honey Bee Beautiful are beekeepers and produce honey and honey and beeswax based skincare, candles and polish from their farmhouse in South Wales. Each product is carefully and lovingly handmade using the finest quality natural ingredients from the bees at the Honey Bee Beautiful farm. Honey is well known as a miracle ingredient and gives products a wonderfully moisturising, healing and soothing quality. Honey is also a humectant, which means it attracts moisture and beeswax also provides a natural protective barrier for delicate skin!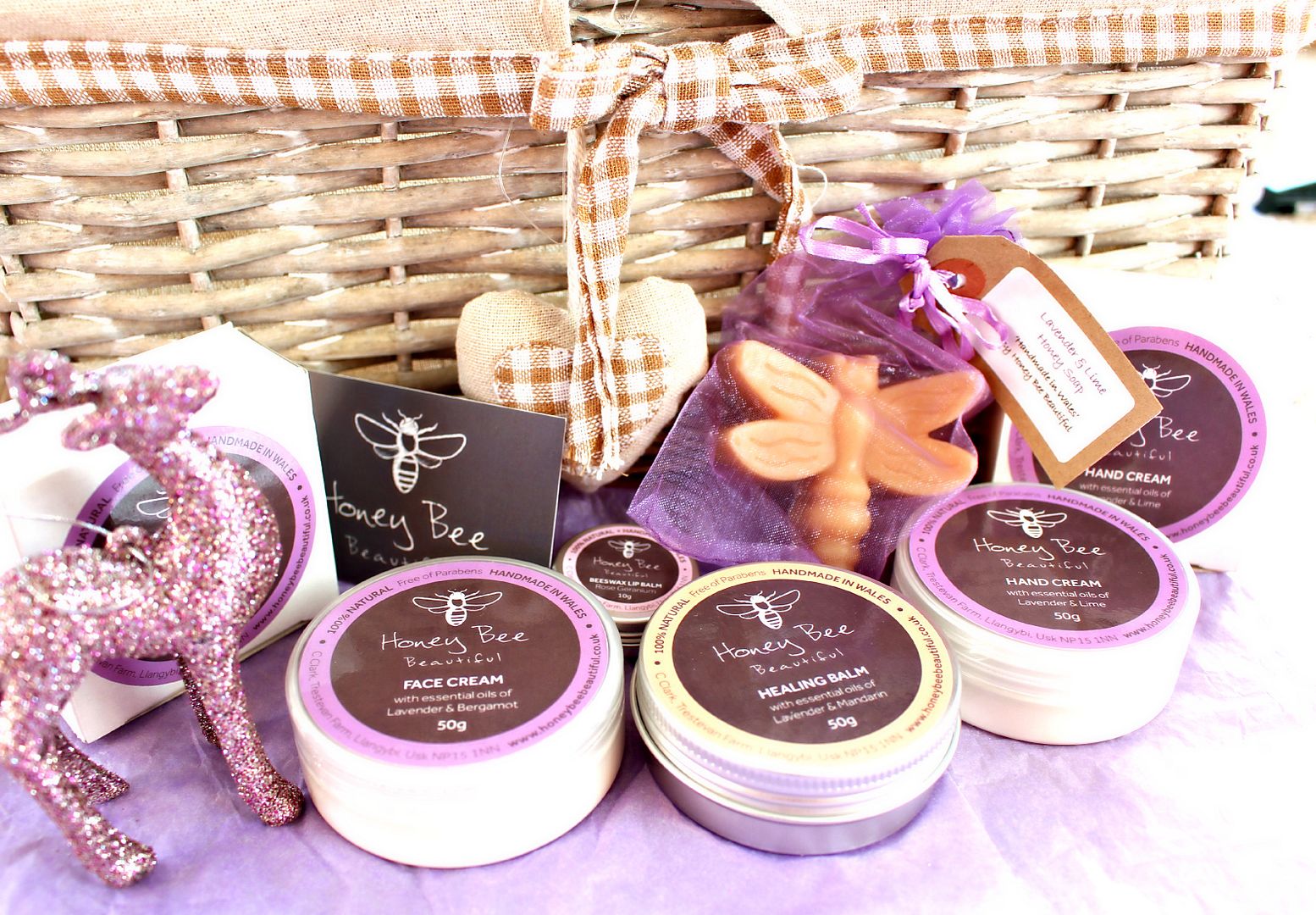 Honey Bee Beautiful Lavender & Bergamot Face Cream £12.50
The Honey Bee Beautiful Face Creams come in two variations' that are suitable for dryer and oilier skin types. I opted for the Lavender Face Cream, as I tend to be normal-combination in my skin type. I have been using The Lavender and

Bergamot

Face Cream in the evening and have been waking up with soothed and far less irritated skin. Lavender is well known for its anti-blemish properties and the combination of honey and beeswax make this an

extremely

moisturising and soothing face cream, perfect for Winter!
Honey Bee Beautiful Lavender & Lime Hand Cream £10.95
Like the Face Cream you can also get the Hand Cream in different variations' which is useful, especially if you like a particular scent more than another! I have been using the hand cream for around a week now and I have been really impressed by how quickly it sinks in, but more importantly how well it has nourished my hands! I have been busy moving the past few weeks, so it has really eased my sore and tired hands. I think this would make a great little stocking filler, as handcreams are perfect for sore wintery hands!
The Honey Bee Beautiful Gift Box is beautifully presented in a card box with an extremely cute tag which says "It's beginning to look a lot like Christmas" I think this little touch is very thoughtful and makes it a great gift to give someone at Christmas Time. You get a great range of products, which are sure to help keep your skin moisturised and soothed throughout the harsh winter months! This would make a great gift for a friend, sister, mum, auntie, girlfriend or anyone who loves natural beauty!
-
Honey Bee Beautiful Healing Balm
-
Honey Bee Beautiful Beeswax Lip Balm
-
Honey Bee Beautiful Handmade Soap
Overall
I would 100% recommend Honey Bee Beautiful for their natural and very thoughtful approach to skincare! I think that the Gift Basket is a great way to try the brand out and you get a fantastic selection of products, which are all extremely useful! I have always supported natural skincare, as I used to make lip balms myself and knowing that a product has been handmade is definitely rewarding! I hope you have enjoyed Part 1 of my South Wales Gift Guide and I will be back soon with Part 2 in the next few days. I would love to hear your thoughts in the comments section below! If you would like to hear more about the products in this post, or perhaps see a few individual reviews.. please let me know below :)
Visit
Honey Bee Beautiful
Lots of Love
The products in this post were provided for the Gift Guide - All opinions are my own*